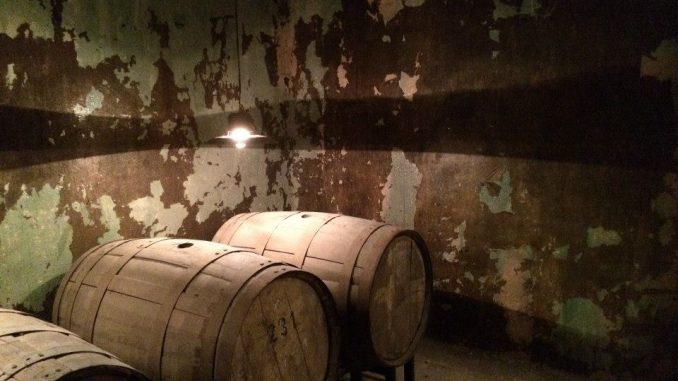 viaNicolette and Katie Tuffan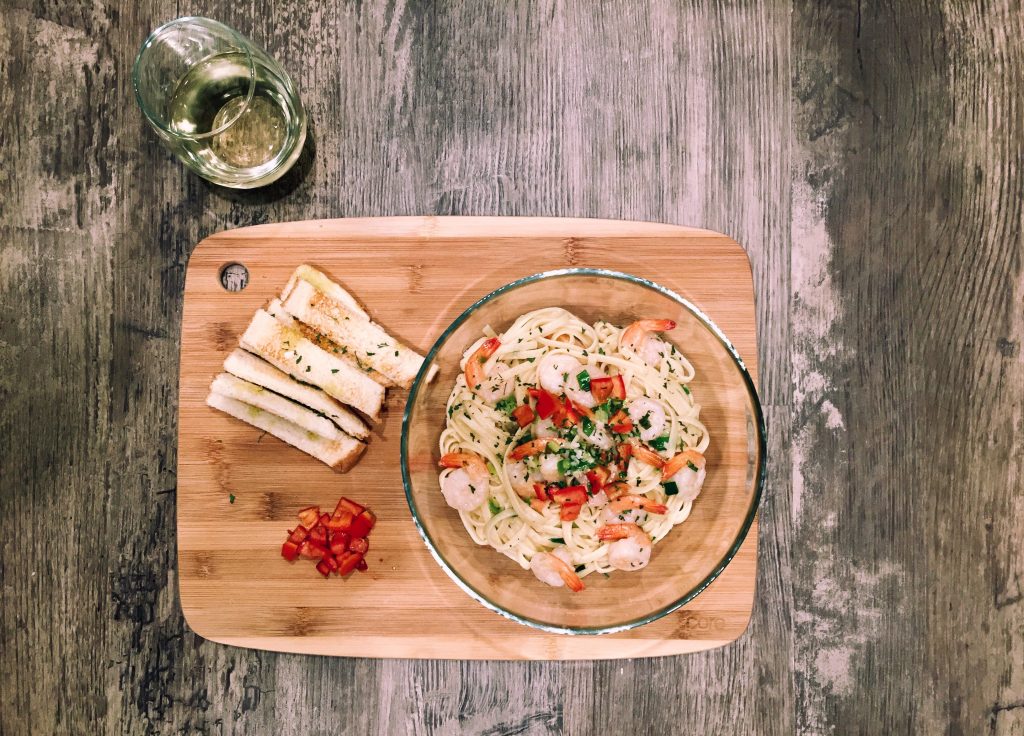 For all you pasta lovers, this recipe is all about "sometimes simple is better." If there's one thing we've learned throughout our years in the kitchen, it's the fact that some dishes are meant to be a breeze and not a complicated mess of time and hard work. Coincidentally, this is one of our favorite meals and a reminder that home is wherever mom (and wine) is… This being said, lets get to cooking!
INGREDIENTS
1 pack of linguini
1 pound of frozen shrimp
1/2 stick of butter
Olive oil
Salt
Parsley flakes
1 Tomato
2 cloves of garlic
1/4 cup white wine
White wine to drink (OPTIONAL)*
Optional side:
Toscana bread
1 clove of garlic
Olive oil
Salt
Pepper
DIRECTIONS
1. First off, preheat your oven to 375 degrees Fahrenheit so your garlic bread can be ready to rock and roll.
2. If you're doing garlic bread, then you already know the drill: slice the bread, rub a garlic clove on the slices and add some olive oil, salt, and pepper.
3. Fill a large pot with water and bring to a boil with salt to taste and a teaspoon of olive oil. It helps if the lid is placed on the pot so it can boil faster.
4. We'll start with prepping the ingredients for this magnificent meal, and that means thawing your shrimp. We prefer leaving our pack of shrimp out for about 20 minutes before we have to cook it. But given that this is a 20 minute recipe, here's an alternative: run the shrimp under lukewarm water. Make sure its not boiling hot or else your shrimp will start to cook and you definitely don't want that.
5. The water should be boiling by now so go ahead and add the linguine. Give it an occasional stir and if your preference is al-dente, it'll be ready in about 8-12 minutes. We like ours a bit more that al-dente. This just depends on what you like.
6. Pop your bread in the oven!
7. While your pasta is cooking, grab a large saucepan and turn the heat to medium high. Add the 1/2 stick of butter and let it simmer a couple of seconds in the pan. Mince 2 cloves of garlic and throw that in the heated butter, along with the thawed shrimp. Flavor with salt and the 1/2 cup of wine.
8. Stir until the shrimp is cooked, this should only take about 3-5 minutes. A good marker for this is when the wine is reduced or the shrimp is perfectly pink, as you don't want to overcook them.
9. Drain your linguini, add it to the saucepan and mix. Add some salt if needed a little more butter and olive oil and sprinkle some parsley flakes. Set this aside.
10. Dice a fresh tomato and at this point you should be smelling that awesome smell of garlic bread thats calling your name. Go ahead and take those out to cool for a bit.
11. Dish everything to your liking. We use bowls for that extra saucy texture from the linguini. Top with some diced tomatoes and set your garlic bread along your bowl if desired.
12. Serve yourself a glass of wine because you deserve it. College is tough. Enjoy!
*We know that not everyone has a preference for drinking wine, as it is definitely an acquired taste. However, a great Sauvignon Blanc is a perfect pairing for this delicious meal. It enhances the flavor of the pasta while it leaves your mouth watering with a crisp touch in your pallet. Take a bite of that crunchy garlic bread and you'll be in heaven!
Also, something else to note is that it's perfectly fine to buy the frozen garlic bread or garlic knots to just pop in the oven. We just prefer making it fresh with the ingredients described above.