California is known for its laid-back lifestyle, beautiful weather, and incredible food scene. This is especially true when it comes to brunch. As a resident and self-proclaimed foodie, I have discovered that the Golden State is a treasure trove of delicious brunch spots. In this article, I will share with you my love for California's brunch culture, as well as some of the best places to indulge in this weekend tradition.
Introduction to California's Brunch Culture
Brunch in California is more than just a meal; it's a lifestyle. It's the perfect combination of breakfast and lunch, usually enjoyed on lazy Sunday mornings. This leisurely meal has evolved into a social event where people gather with friends and family to share good food, sip on refreshing cocktails, and unwind from the week.
California's brunch scene is incredibly diverse. From the bustling cities of San Francisco and Los Angeles to the laid-back beach towns of Santa Barbara and San Diego, there's a brunch spot for every taste and preference. Whether you're craving classic American fare, eclectic fusion dishes, or farm-to-table meals, the Golden State has it all.
Why Brunch is the Perfect Weekend Indulgence
Brunch is the perfect way to indulge on the weekend for several reasons. First, it allows you to sleep in without missing out on breakfast. We all need a little extra rest after a long week, and brunch provides the perfect excuse to hit the snooze button.
Second, brunch is often a more relaxed dining experience compared to other meals. You can linger over your food and enjoy the company of friends and family without feeling rushed. This slower pace is ideal for those who want to savor their meal and enjoy quality time with loved ones.
Finally, brunch offers the opportunity to try new and unique dishes. Many restaurants offer special brunch menus that feature innovative takes on classic breakfast and lunch items. With so many options available, there's always something new and exciting to try.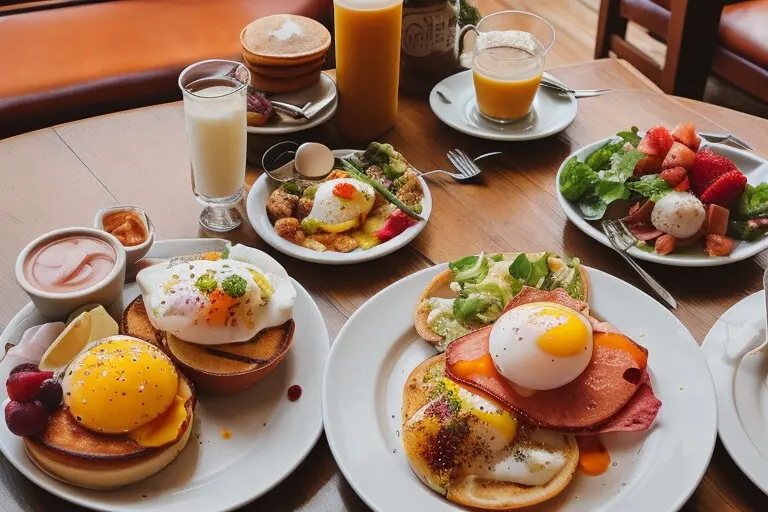 The Appeal of Bottomless Mimosas and Brunch Cocktails
A key element of the California brunch experience is the bottomless mimosa. This delightful concoction of orange juice and sparkling wine is a favorite among brunch-goers and adds an element of celebration to the meal. Bottomless mimosas are often offered at a fixed price, allowing you to enjoy as many refills as you desire during your meal.
In addition to mimosas, many brunch spots also offer a variety of cocktails specifically crafted for the mid-morning meal. These refreshing libations can include Bloody Marys, Bellinis, and coffee-based concoctions that perfectly complement the flavors of your meal. Sipping on a brunch cocktail is a fantastic way to relax and enjoy the weekend.
A Taste of California: Unique Pancake and Waffle Creations
California is known for its culinary innovation, and this creativity is on full display in the pancake and waffle offerings at many brunch spots. Forget plain buttermilk pancakes – in the Golden State, you can find unique creations like lemon ricotta pancakes, savory bacon-stuffed waffles, and matcha-infused flapjacks.
These inventive dishes showcase the diverse flavors and ingredients that California has to offer. Whether you prefer sweet or savory, there's a pancake or waffle creation for you.
Top Brunch Destinations in Northern California
Northern California is home to some truly exceptional brunch spots. In San Francisco, check out Zazie, a charming French bistro with a beautiful outdoor patio. Their Croque Madame and gingerbread pancakes are must-tries. For a unique experience, head to Brenda's French Soul Food, which offers a blend of French and Southern cuisine. The beignets and shrimp and grits are standout dishes.
In the East Bay, visit La Note, a cozy Berkeley bistro, for their delicious lavender-infused lemonade and raspberry oatmeal pancakes. If you find yourself in wine country, Farmstead at Long Meadow Ranch in St. Helena is an excellent choice for a farm-to-table brunch experience. Their cheddar biscuits and house-smoked bacon are divine.
Must-Visit Brunch Spots in Southern California
Southern California also has its fair share of exceptional brunch destinations. In Los Angeles, head to République for their incredible pastries and shakshuka. For a Mexican-inspired brunch, try Gracias Madre in West Hollywood. Their plant-based chilaquiles and flautas are delicious and packed with flavor.
San Diego is home to some amazing brunch spots as well. Great Maple, with locations in both San Diego and Orange County, is known for their maple bacon doughnuts and fried chicken and doughnuts dish. In the coastal town of Encinitas, check out Honey's Bistro & Bakery for their acai bowls and avocado toast.
Farm-to-Table Brunch Experiences in California
California is well-known for its farm-to-table movement, and this is evident in many brunch menus throughout the state. These restaurants prioritize locally sourced, organic ingredients, resulting in fresh and flavorful dishes. Some standout farm-to-table brunch spots include A.O.C. in Los Angeles, Gather in Berkeley, and The Farmer & The Fox in St. Helena.
Brunch with a View: Scenic California Brunch Locations
One of the best things about California is its natural beauty, and what better way to enjoy it than with a delicious meal? Some of the most scenic brunch spots in the state include Malibu Farm in Malibu, which offers stunning views of the Pacific Ocean, and the Cliff House in San Francisco, where you can take in the breathtaking vistas of the Golden Gate National Recreation Area.
Tips for Planning the Perfect Weekend Brunch Outing
To make the most of your California brunch experience, keep these tips in mind:
Make reservations whenever possible, as popular brunch spots can fill up quickly.
Be prepared for a leisurely meal, as brunch is meant to be savored and enjoyed.
Don't be afraid to try new dishes and flavors – part of the fun of brunch is discovering unique culinary creations.
Consider the ambiance and location when choosing a brunch spot. A beautiful setting can enhance the overall experience.
Conclusion: Savoring California's Brunch Scene
California's brunch scene is a testament to the state's culinary prowess and diverse food culture. With so many incredible options to choose from, it's no wonder that brunch has become a beloved weekend tradition for residents and visitors alike. So go ahead, sleep in, grab a mimosa, and indulge in some of the best food the Golden State has to offer. Your lazy Sunday mornings will never be the same.