Words by Ryan Murphy
Photos by Gabrielle Perretta
I'm a sucker for a good challenge, and took it upon myself, some months ago, to try living a vegan lifestyle for a week.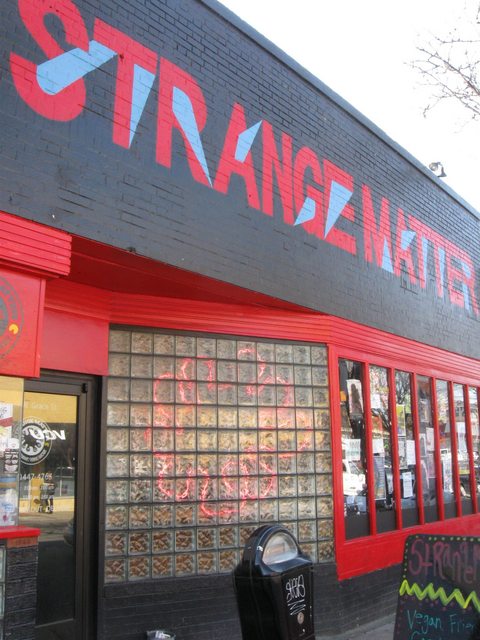 Being certifiably addicted to chocolate, milk, cheese and meat, this was not something I undertook lightly, and I gained an immense respect for those who do it for months or years on end.
One of the hardest parts about the lifestyle, for me personally, was when your non-vegan friends say "Let's go eat" and you show up to a non-vegan friendly menu (I'm looking at you, Quizno's). Good vegetarian joints are hard to find. Good vegan ones even harder.
Strange Matter, right on campus and barely a block from my dorm, bills itself as "Vegan Friendly, Carnivore Approved," so I coerced a few non-veg friends to come with me during that meat-free week, and even after my commitment to an animal-product-free lifestyle faded, we have kept coming back to this fantastic little indie eatery.
THE FOOD
The Monte Cristo. The Hypothesis. The Neutron Star. The Revenge.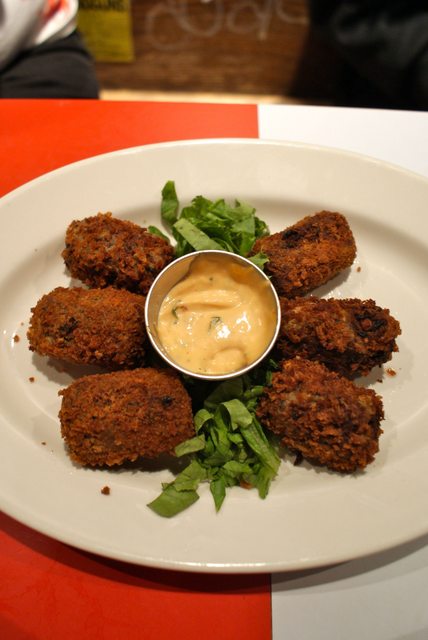 Jackfruit. At first I though I was looking at the roster of a luchadore match. The Strange Matter menu is an admittedly bizarre list of ultra-veg and meat-tastic plates.
The Black Bean Fritters were surprisingly tasty, and you could make a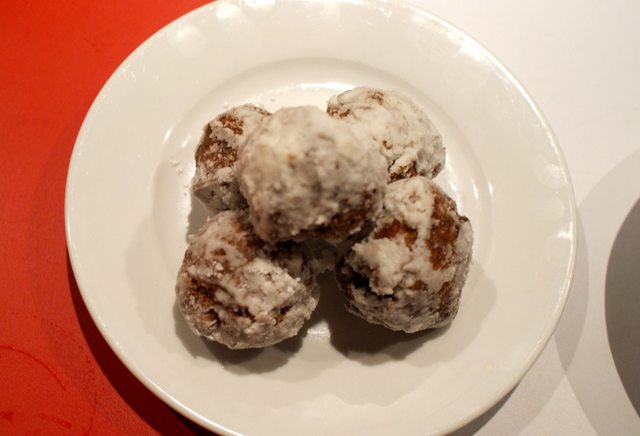 small meal out of those alone. The Famous Uncle Paul's Famous Vegan Mango Donut Holes were a great treat for a vegan, though no one in my party could really taste the mango. They weren't a blast of fruity flavor, but that's the best vegan-approved fried dough this side of the Mississippi (and cheap!).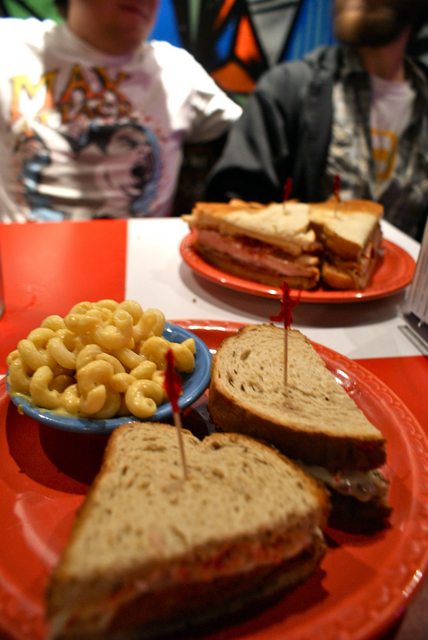 While abstaining from animal-derived foods, I had the Revenge, the vegan version of the Apology — a sandwich stacked with turkey, ham and bacon between two grilled cheese sandwiches. The Revenge was good, and great as a vegan dish, but I've had the Apology since then, and I'm not sorry to say I won't be going back to meat-substitute any time soon. The Portabello Cheesesteak is good for someone with a passion for mushrooms, but the texture of the mushrooms was a bit of a turnoff for me (kind of slimy and tough, because of the way they were prepared).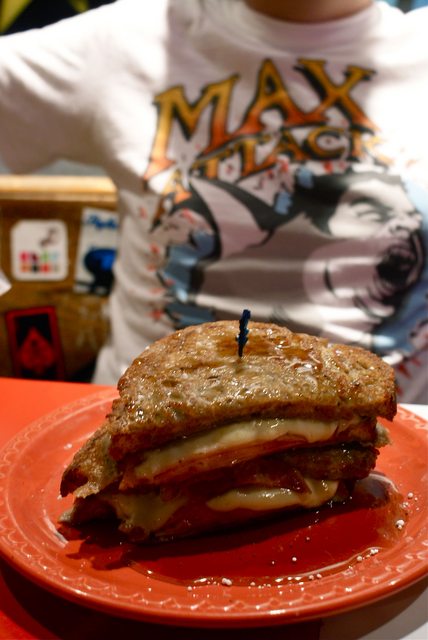 In all my trips back since that paradigm-shifting week, I always find myself coming back to the Monte Cristo (convenient, since it's available on Sundays, when Strange Matter only serves from their breakfast menu). With ham piled between stacks of syrup-smeared french toast, it may give the Apology a run for its artery-clogging money, but a joint this health conscious can be forgiven (nay, applauded!) for including such delightfully unhealthy fare. The majority of plates cost between $6 and $10, so you can finally eat healthy (and some not so healthy) food on a college budget.
ATMOSPHERE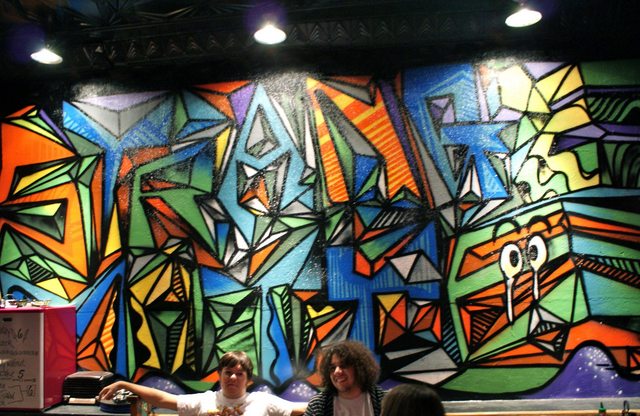 Strange Matter is one of the only places that I've ever felt is a living, breathing entity of it's own. The art and the delightful cacophony of music and arcade machines makes a vital and dynamic statement, giving a serious and unique sense of place to what would otherwise just be a good vegan dive.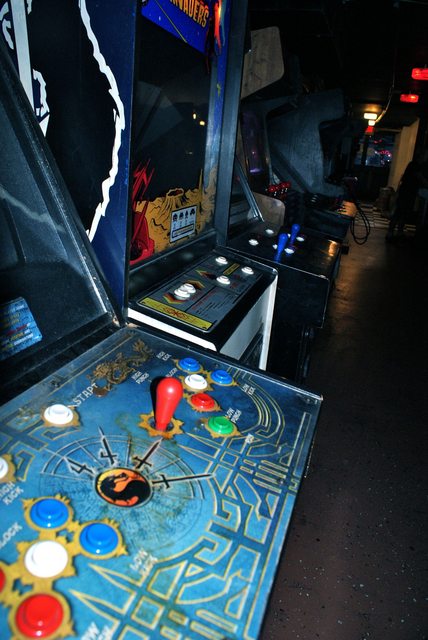 The decorations are my favorite aspect of the restaurant, and easily the most unique. With homages to video game characters and classical art (Nintendo Last Supper, anyone?), as well as graffiti-style tags and a rotating assortment of hanging art, including sketches and roller derby posters –the art is what immediately imparts a distinctive association to a person. The counter-cultural art is accompanied by rows of old-school arcade games, all fully playable, including Ms. Pacman, Tekken and Marvel Vs. Capcom 2.
I've been to my share of shows at Strange Matter as well (Strange Matter closes the kitchen and goes into full-on venue mode at least 2-3 times a week). It's makes a great, intimate venue and hosts a ton of great local and smaller touring acts (Ted Leo here in December was one of my favorite shows ever). The sound quality is roughly what you'd expect of a place the size and layout of Strange Matter, with enough open space to dance and enjoy the show.
One of the downfalls of the place is that, though it tries to cater to everyone outside of the mainstream, it does so with no concessions whatsoever to anyone within the mainstream. What I mean by that is this: if you enjoy the atmosphere at the Tropical Smoothie Cafe or the Olive Garden, this is not a place for you. They play loud, fast, sometime jarring music. People feverishly pound buttons and slam joysticks. It's a bar, for Christ's sake.
Strange Matter is located on 929 W. Grace St. It's open from 8 a.m. to 2 a.m. Monday through Friday and 11 a.m. to 2 a.m. on Saturday and Sunday. To check out their menu and show dates, go towww.strangematterrva.com.
If you're burning to talk about Strange Matter, rip my review apart or recommend other veg-friendly local restaurants, hit up the comment section below.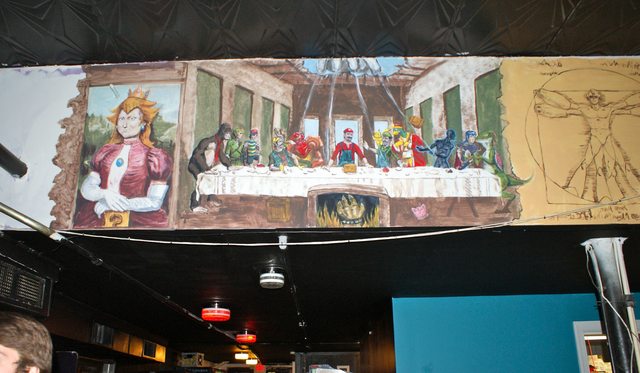 Did you like this? Share it:
Did you enjoy this post?Why notleave a comment belowand continue the conversation,orsubscribe to my feedand get articles like this delivered automatically to your feed reader.