25 California Steakhouses for Meat Lovers
California is a state known for its diverse culinary scene, boasting a variety of flavors and influences from around the world. One particular cuisine that has a strong presence in the Golden State is the classic American steakhouse. In this article, we will delve into the world of California's steakhouses, exploring the importance of quality beef, different cuts of steak, unique cooking techniques, and perfect pairings of steaks with sides, sauces, and wine.
We will also introduce you to the top 25 California steakhouses, showcasing a diverse selection with rich histories, upscale venues, family-friendly options, celebrity favorites, sustainable farm-to-table establishments, and unconventional choices with a twist.
Introduction to California's Steakhouse Scene
The steakhouse is a quintessential American dining experience, and California is no exception to this culinary tradition. With its rich agricultural history and access to high-quality beef, it is no surprise that the state boasts some of the best steakhouses in the country. From iconic establishments with storied pasts to modern, innovative eateries pushing the boundaries of traditional steakhouse fare, there is truly something for every meat lover in California.
As we journey through the state's top steakhouses, you will discover a wide range of flavors, cooking techniques, and atmospheres that cater to a variety of tastes and preferences. Whether you are looking for a classic, old-school vibe or a contemporary, upscale setting, California's steakhouses have something to offer for everyone.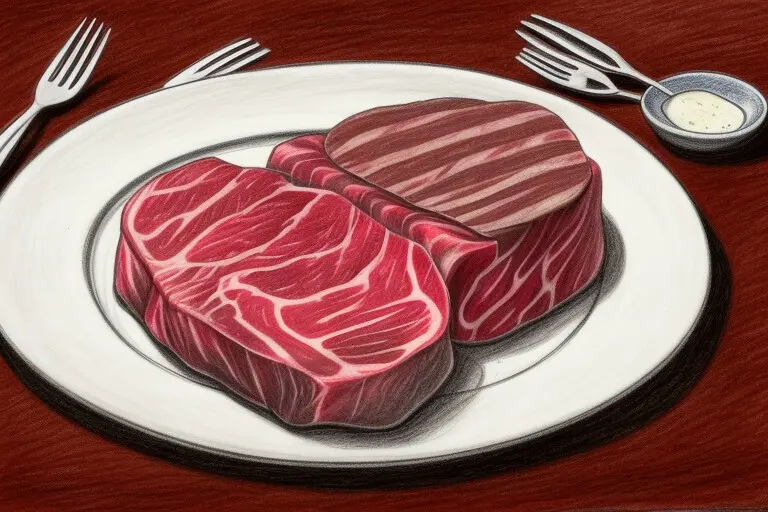 The Importance of Quality Beef in a Steakhouse
When it comes to steakhouses, the quality of the beef is of utmost importance. A great steak starts with great beef, and California is home to some of the finest cattle ranches in the country. Many of the state's top steakhouses take pride in sourcing their beef from local, sustainable farms, ensuring the highest quality product possible.
There are several factors that contribute to the quality of beef, including breed, diet, and aging process. For example, prime beef, which is the highest grade available, comes from younger cattle with a higher degree of marbling (the distribution of fat within the muscle). This results in a more tender, flavorful, and juicy steak. Many California steakhouses also offer grass-fed and organic beef options, which are not only better for the environment but also tend to be leaner and more flavorful.
In addition to the quality of the beef itself, the way it is prepared and cooked plays a critical role in the overall steakhouse experience. This brings us to our next topic: the different cuts of steak and unique cooking techniques used in California's steakhouses.
Different Cuts of Steak to Savor
Steak comes in many different cuts, each with its unique flavor, texture, and tenderness. Some of the most popular cuts you will find on a steakhouse menu include filet mignon, ribeye, New York strip, porterhouse, and T-bone. Each cut has its distinct characteristics, so it's essential to understand the differences to choose the perfect steak for your palate.
Filet mignon, for example, is known for its tenderness and subtle flavor. This cut is often recommended for those who prefer a leaner, less marbled steak. On the other hand, ribeye is prized for its rich, bold flavor and generous marbling, which imparts a juicy, melt-in-your-mouth texture. New York strip is a versatile cut with a balance of tenderness and flavor, while porterhouse and T-bone steaks combine the best of both worlds, offering a duo of filet mignon and New York strip separated by a T-shaped bone.
Unique Cooking Techniques for Grilled Meats
The way a steak is cooked can significantly impact its flavor and texture, and California's steakhouses employ a variety of unique cooking techniques to bring out the best in their grilled meats. Some of the most common methods include grilling, broiling, and pan-searing, each with its distinct advantages.
Grilling, for example, imparts a smoky, charred flavor to the steak, as the high heat from the flames caramelizes the meat's natural sugars. Broiling, on the other hand, uses intense, direct heat from above to quickly sear the steak and lock in its juices. Pan-searing is another popular technique that involves cooking the steak in a hot, heavy skillet, creating a delicious crust while keeping the interior tender and juicy.
Some California steakhouses also employ less traditional methods, such as cooking steaks on a Himalayan salt block or using a sous-vide technique, which involves vacuum-sealing the meat and cooking it in a temperature-controlled water bath before searing it for a perfect crust.
The Art of Pairing Steaks with Sides and Sauces
A great steak is only part of the steakhouse experience; the perfect accompaniments can elevate your meal to new heights. Classic side dishes, such as baked potatoes, creamed spinach, and sautéed mushrooms, are designed to complement the rich flavors of your steak. More adventurous options, like truffle mac and cheese or roasted brussels sprouts, can add a modern twist to your meal.
Sauces also play a crucial role in enhancing the flavor of your steak. Traditional options, such as béarnaise, peppercorn, and bordelaise, are designed to complement the natural flavors of the beef without overpowering it. More unconventional sauces, like chimichurri or blue cheese, can add an unexpected burst of flavor that elevates your steak to new heights.
Surf and Turf: Combining Seafood with Steak
Surf and turf, the classic pairing of steak and seafood, is a popular option at many California steakhouses. This combination allows diners to indulge in the best of both worlds, enjoying the rich, hearty flavors of beef alongside the delicate, succulent taste of fresh seafood.
Common surf and turf pairings include filet mignon and lobster tail, ribeye and shrimp, or New York strip and crab legs. Some steakhouses also offer more unique combinations, such as steak with seared scallops or grilled octopus, for a truly memorable dining experience.
Wine Pairings for the Perfect Steakhouse Experience
No steakhouse experience would be complete without the perfect wine to complement your meal. California is renowned for its world-class wines, and many steakhouses boast extensive wine lists featuring local and international selections. When choosing a wine to pair with your steak, there are a few general guidelines to keep in mind.
Red wines, such as Cabernet Sauvignon, Merlot, and Syrah, tend to pair well with steak due to their robust flavors and tannins, which help to balance the richness of the beef. However, personal preference always plays a role in wine pairings, so don't be afraid to ask your server for recommendations or explore different options to find the perfect match for your taste buds.
Top 25 California Steakhouses: A Diverse Selection
California's vast and diverse steakhouse scene offers something for everyone, from iconic establishments steeped in history to upscale venues perfect for special occasions. The following list highlights 25 of the state's top steakhouses, offering a diverse selection for meat lovers to explore:
House of Prime Rib (San Francisco)
CUT (Beverly Hills)
Harris' (San Francisco)
House of Beef (Oakdale)
Alexander's Steakhouse (San Francisco, Cupertino, and Palo Alto)
Duane's Prime Steaks and Seafood (Riverside)
Donovan's Steak & Chop House (San Diego)
Boboquivari's (San Francisco)
Osso Steakhouse (San Francisco)
Taylor's Steakhouse (Los Angeles)
The Hitching Post II (Buellton)
The Steakhouse at Azul La Jolla (La Jolla)
Ruth's Chris Steak House (locations throughout California)
Fleming's Prime Steakhouse & Wine Bar (locations throughout California)
Five Crowns (Corona del Mar)
Malibu Grill (Fremont)
The Bull and Bear Steakhouse (Monterey)
Flint's Ribs & Steaks (San Francisco)
The Grill at Torrey Pines (La Jolla)
The Palm (Los Angeles)
Belcampo Meat Co. (locations throughout California)
The Meat Cellar (Claremont)
The Butcher's Table (San Diego)
McPhee's Grill (Templeton)
Saddle Peak Lodge (Calabasas)
Iconic Steakhouses with a Rich History
Several of California's steakhouses boast a rich history, dating back decades or even centuries. These iconic establishments have stood the test of time, continuing to serve up delicious steaks and memorable experiences for generations of diners.
House of Prime Rib in San Francisco, for example, has been a staple in the city since 1949, known for its classic prime rib dinners and elegant, old-school atmosphere. Harris' in San Francisco, another iconic steakhouse, has been serving up top-quality steaks since 1931, with a rich history that includes hosting famous guests like Frank Sinatra and Marilyn Monroe.
Upscale Steakhouses for Special Occasions
If you're looking for a more upscale dining experience, California's steakhouses have plenty to offer. CUT in Beverly Hills, for example, is a modern, sophisticated steakhouse helmed by renowned chef Wolfgang Puck, featuring high-quality steaks, an extensive wine list, and an elegant atmosphere perfect for a special night out.
Duane's Prime Steaks and Seafood, located within the historic Mission Inn Hotel & Spa in Riverside, offers an elegant setting complete with white tablecloths, chandeliers, and attentive service, making it an ideal spot for celebrating a special occasion or enjoying a romantic dinner for two.
Family-Friendly Steakhouses
California's steakhouses aren't just for adults – many also cater to families, offering a welcoming atmosphere and kid-friendly menu options. House of Beef in Oakdale, for example, is a casual, family-owned establishment known for its friendly service and delicious steaks, making it a popular choice for families and groups.
Similarly, The Hitching Post II in Buellton is a family-friendly steakhouse with a casual atmosphere, offering a diverse menu that includes options for both adults and children, making it a great choice for a family night out.
Celebrity-Favorite Steakhouses
With California's close ties to Hollywood, it's no surprise that some of the state's steakhouses have become popular haunts for celebrities. Taylor's Steakhouse in Los Angeles, for instance, has been attracting famous patrons since it first opened its doors in 1953, with past visitors including Frank Sinatra, Dean Martin, and Marilyn Monroe.
The Palm in Los Angeles is another celebrity favorite, known for its caricatures of famous patrons adorning the walls, as well as its prime steaks and classic steakhouse fare.
Sustainable and Farm-to-Table Steakhouses
California is known for its commitment to sustainable, farm-to-table dining, and many of the state's steakhouses have embraced this ethos. Belcampo Meat Co., for example, is both a butcher shop and a steakhouse, sourcing its organic, grass-fed beef directly from its own farm in Northern California.
The Meat Cellar in Claremont is another great example of a sustainable steakhouse, working closely with local farms to source high-quality, ethically-raised beef for its menu.
Unconventional Steakhouses with a Twist
For those looking for a unique twist on the traditional steakhouse experience, California doesn't disappoint. Alexander's Steakhouse, with locations in San Francisco, Cupertino, and Palo Alto, offers an innovative fusion of American steakhouse cuisine and Japanese flavors, featuring dishes like Hamachi Shots, a 450-day aged ribeye, and A5 Wagyu from various Japanese prefectures.
The Butcher's Table in San Diego is another unconventional pick, combining a butcher shop and steakhouse under one roof, with a menu that includes unique options like a smoked ribeye and a bone marrow-crusted filet mignon.
Tips for Choosing the Right Steakhouse
With so many fantastic steakhouses to choose from in California, it can be challenging to decide where to dine. To help narrow down your options, consider factors such as location, atmosphere, price range, and the type of steak and other menu items that interest you. Don't be afraid to ask for recommendations from friends, family, or online reviews to help guide your decision.
Conclusion: A Steak Lover's Paradise in California
From iconic establishments with rich histories to modern, innovative eateries, California's steakhouse scene offers a diverse range of flavors and experiences for meat lovers to savor. Whether you're in the mood for a classic, old-school vibe or a contemporary, upscale setting, there is truly something for everyone in the Golden State. So go ahead, indulge in a juicy, tender steak at one of California's top steakhouses – your taste buds will thank you.