Introduction to California's dessert scene
The Golden State has long been known for its sunny skies, beautiful beaches, and vibrant cities, but California's dessert scene is equally as impressive. With its melting pot of cultures and innovative culinary scene, California offers an extensive variety of sweets to satisfy every palate. From classic pastries and cakes to unique ice cream flavors and decadent chocolate treats, the state's dessert options are as diverse as its residents.
As a dessert lover, I couldn't resist exploring the state's most delectable dessert havens. With an insatiable appetite for sweets, I set out on a mission to discover the best dessert offerings in California. From traditional treats to health-conscious options, I've compiled a list of my top 10 favorite dessert spots in the Golden State, ensuring that every sweet tooth can find their perfect indulgence.
Exploring the diverse dessert offerings in California
The art of indulging in California's pastries and cakes
California's pastry and cake offerings are a delightful blend of classic, traditional, and innovative creations. One of my all-time favorite pastry spots is Tartine Bakery in San Francisco, where you can indulge in their famous morning buns, croissants, and bread pudding. A visit to the iconic bakery is a must for anyone visiting the City by the Bay.
For a truly unique experience, head to Mr. Holmes Bakehouse, also in San Francisco, where you'll find their signature Cruffin – a croissant-muffin hybrid filled with delicious pastry cream. If you're more of a cake lover, don't miss out on the delectable slices at SusieCakes, a popular bakery chain with locations throughout California. Their classic vanilla cake with buttercream frosting will transport you back to your childhood days.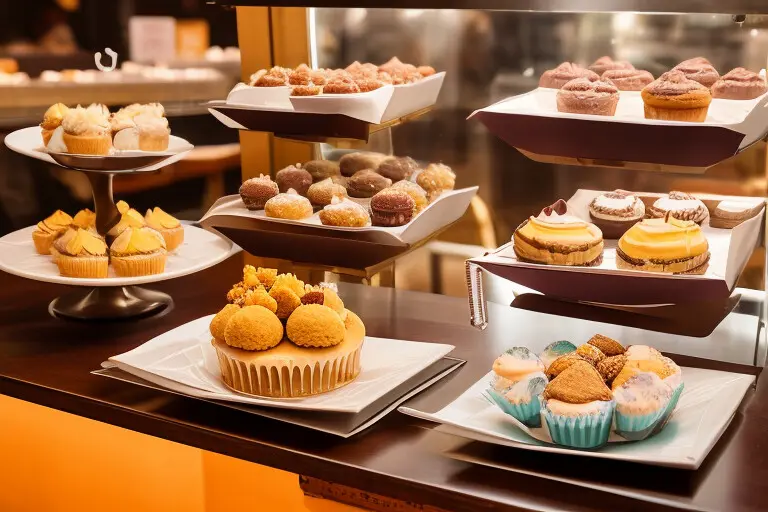 Ice cream wonders: Unique and delicious scoops in the Golden State
When it comes to ice cream, California is home to some of the most innovative and unique flavors you'll ever encounter. For a truly unforgettable experience, visit Salt & Straw, a popular ice cream chain with locations in Los Angeles, San Francisco, and San Diego. Their creative flavors, such as Honey Lavender and Roasted Strawberry & Toasted White Chocolate, are made with locally sourced, high-quality ingredients and are guaranteed to make your taste buds sing.
For the ultimate ice cream lover, a trip to Bi-Rite Creamery in San Francisco is an absolute must. Known for their small-batch, organic ice cream, this iconic shop offers a variety of delectable flavors, including their famous Salted Caramel and Brown Sugar with Ginger Caramel Swirl. If you're looking for a truly unique ice cream experience, don't miss out on the innovative frozen treats at Afters Ice Cream, a Southern California chain known for their Milky Bun – a warm, glazed donut stuffed with your choice of ice cream and toppings.
Decadent chocolate treats for the ultimate dessert lover
California's chocolate scene is equally as impressive, offering an array of rich and indulgent treats for the ultimate dessert lover. A visit to Dandelion Chocolate in San Francisco is a must for any chocolate connoisseur. This small-batch chocolate factory offers a variety of single-origin chocolate bars, as well as decadent pastries and drinks made with their signature chocolate.
For a more traditional chocolate experience, head to See's Candies, a beloved California institution with locations throughout the state. Founded in 1921, See's is known for their high-quality, delicious chocolates, including their famous Scotchmallow – a heavenly combination of caramel, marshmallow, and dark chocolate.
Traditional and innovative sweets to try in California
Health-conscious dessert options for guilt-free indulgence
With California's focus on health and wellness, it's no surprise that the state offers an array of health-conscious dessert options for those seeking a guilt-free indulgence. For a delicious and nutritious treat, head to Pressed Juicery, a popular chain with locations throughout California, and try one of their Freeze – a soft-serve dessert made with cold-pressed juice and all-natural ingredients.
For a more traditional dessert experience that still caters to the health-conscious crowd, visit True Food Kitchen, a restaurant chain with locations in Santa Monica, Pasadena, and other California cities. Their vegan chocolate chip cookies and almond ricotta cheesecake are delicious and satisfying options for those seeking a guilt-free treat.
Must-visit dessert shops in California's major cities
No trip to California would be complete without a visit to some of the state's must-visit dessert shops in its major cities. In Los Angeles, don't miss out on Milk, a popular bakery and ice cream shop known for their delightful macaron ice cream sandwiches and decadent cakes. For a truly unique dessert experience, make sure to stop by Donut Friend in Highland Park, where you can customize your own donut with a variety of fillings, glazes, and toppings.
In San Francisco, a visit to the famed Ghirardelli Chocolate Company is an absolute must. Indulge in their rich and creamy hot fudge sundaes or pick up some of their famous chocolate squares to enjoy later. If you're in San Diego, be sure to check out Extraordinary Desserts, a gourmet bakery known for their artfully crafted pastries and cakes.
Seasonal and special occasion sweets in California
California's dessert scene also offers a variety of seasonal and special occasion sweets to enjoy throughout the year. For the fall season, don't miss out on the pumpkin-flavored treats at Porto's Bakery, a popular Cuban bakery with locations in Southern California. Their pumpkin cheesecake and pumpkin spice latte are perfect for satisfying your autumn cravings.
During the Christmas season, make sure to visit the famous Bûche de Noël at Yule Logs, a French bakery in San Francisco, offering a variety of delicious and beautifully crafted Yule log cakes. For a truly memorable Valentine's Day, indulge in the heart-shaped macarons at Bottega Louie in Los Angeles, a stunning patisserie and restaurant known for their colorful and delicious macarons.
Conclusion: The ultimate dessert adventure in California
From classic pastries and cakes to unique ice cream flavors and decadent chocolate treats, California's dessert scene offers a truly unforgettable adventure for every sweet tooth. With its diverse offerings and commitment to quality and innovation, the Golden State is the perfect destination for dessert lovers seeking the ultimate indulgence. So go ahead, satisfy your sweet tooth, and embark on a delicious journey through California's finest dessert havens.