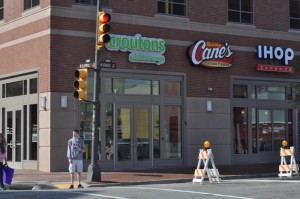 Words and Photos by Michael Pasco
On October 24th, 2011, VCU introduced a new dining facility labeled the Laurel and Grace Place (which is something I doubt any student would actually say) right by most of the freshman dorms.
Weeks before they were ready, I knew I wanted to try all of the establishments over the course of the opening day. I was most excited for Raising Cane's because I have heard nothing but good things about it from my buddies at ODU, but as far as hype goes, IHOP comes in first. Croutons, Salads, and Wraps was more of something that people appreciated being there as opposed to the excitement of the other two.
As it was opening day and its location was so convenient to VCU students, I was well aware of the long lines that were going to be building up at each of the dining areas, the lack of places to sit, and the fact that the workers were still getting into the groove of working a facility like this.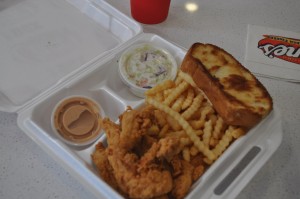 That being said, I had Raising Cane's for lunch, well aware that swipes did not start until 5pm. I ordered the awkwardly labeled Three Finger Combo, which consisted of three chicken fingers, crinkle cut fries, Texas toast, and Raising Cane's secret sauce.
Let me just say that the secret to their success has to be their mystery sauce simply because it goes well with every other item on the menu. Yes, the chicken tenders were delicious and much tastier than anything our resident Chick-Fil-A can offer, and yes, the toast was the best toast I have ever had in my admittedly short lifespan, but I have to say that the slightly peppery and lightly tangy sauce is the breakout star of this dining institution.
Despite it being opening day, the lines also moved pretty quickly. By the time I got my order, I only had to wait two minutes before I actually got my food, and that's more than I can say about the other two establishments. Even when I went back on subsequent occasions around swipe times, while the lines were still long, they did go through quicker than the other facilities. Raising Cane's is, by far, the most respectable of the restaurants.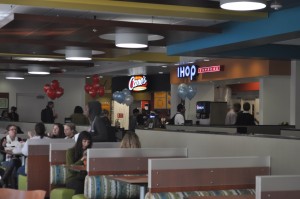 For dinner, I decided to go with Croutons, Salads, and Wraps. Word to the wise: do not be fooled by its short lines. Making wraps and salads any way you want it takes time, so be prepared to wait ten to fifteen minutes or so if the line has any more than six people.
That being said, I have got to say that if it didn't have such stiff competition, this would be the sleeper hit of the three establishments. I ordered your typical chicken Caesar on a garlic herb wrap with spinach, pineapple, and parmesan cheese added to it. I ended up being very satisfied with it, and I've made it a point to go there just about every time I'm in the mood for something healthy. The selection was great and it tasted pretty damn fresh.
And if you essentially make a wrap yourself and you're unsatisfied with it, then you really don't know what you want anyways.
I have to say though, the lack of good chips really brought me down, as well as a lack of choice as far as drinks go. You are given a little 16oz Aquafina, and you really don't get any choice in the matter.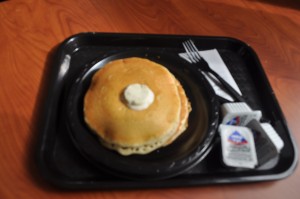 And lastly, for my second dinner, I went to IHOP. Like many people, once I found out it was an Express, I found myself a bit skeptical on the authenticity of this establishment. I was pleasantly surprised to find that the food still tastes as good as an actual IHOP. I ordered a couple slices of French toast complete with bacon and eggs, and found it just as enjoyable as any other IHOP I've been to. In fact, I think IHOP is the best value for a swipe because of the quality and the quantity of food you receive.
The problem, however, was that the waiting times were ridiculous. I went there around 10:30pm, and did not get out until close to midnight. What was odd was that it actually only took maybe half an hour to get to the front of the line and make my order; my friends and I actually had to wait longer to get our food processed.
When we did get our orders, my friends agreed that it was definitely not worth all of the wasted time. Some of my friends did not get entirely what they ordered (sausage instead of bacon), but did not want to have to deal with the lines again just to get a complete order. One of my other friends' pancakes were also about the size of her palm.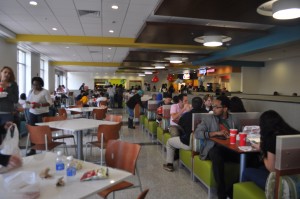 In fact, it was actually a tad amusing that it was labeled IHOPExpresswhen it had the longest wait of all the other restaurants. The wait was to the point where I actually swore off late night IHOP for the rest of my years at VCU, which was borderline blasphemy considering its stellar location and extended working hours (8:30am – 3am).
However, the next morning, after some thought, I decided to give IHOP another chance. I went there during their morning swipe times, and it was a lot faster, and the line was much shorter. I didn't even have to wait too long to get my order either. I also noticed that I got bigger portions in my Rooty Tooty Fresh N' Fruity (strawberries being the Fruity), and the bacon was much thicker. It also tasted a lot better because I wasn't bitter about having to wait an hour+ just for some damn pancakes.
But I did notice that on my subsequent visits to IHOP as the week went on, the wait times inched closer to the wait times for Raising Cane's, which is an achievement in itself. Kudos to the IHOP Express for trying to live up to their name!
Final Verdict: If the quality of the new cuisine at Laurel and Grace Place was turned into a race, people would put all their money into the IHOP Express, but the Raising Cane's would come in first hands down. Those same people would get slightly upset because IHOP was struggling in third place, but the faithful would quietly cheer when it finally beat out Croutons, Salads, and Wraps and got to second.