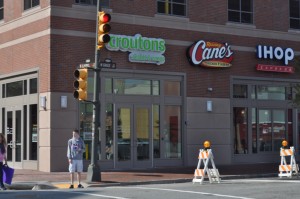 Words by Amanda Campbell
Photos by Michael Pasco  
VCU Dining Services added three new eatery options for students on campus last Monday and was well received by a crowd of hungry student ready for something different.
As a part of the new Laurel and Grace Place, the IHOP Express, Raising Cane's Chicken Fingers, and Croutons Salads and Wraps were all open for students on October 24thcentrally located less then a block from three of the major freshman dorms.
Starting at 8:30a.m., IHOP Express, opened for business shortly followed by the other two at 10:30.
Michael Martin, resident district manager for ARAMARK (provider for VCU food services), commented on the slow crowd early in the morning saying, "people thought that the place didn't open until the grand opening events at 1p.m."
When it neared lunchtime though, crowds of people were beginning to file in to test how the new places compared to other current dining options.
As the grand opening got into full swing, prizes were given away to the first 100 customers to each place starting at 1p.m. with things like coffee mugs and key chains. Students at the grand opening were also eligible to enter to win free IHOP for a year. Local radio station Hot 100.9 was also set up inside the new dining area giving away small items and helping to pump up the crowd.
At IHOP Express, the menu has similar items to that of the regular IHOP diners. VCU student, Gregory, commented that "it's an IHOP, you can't hate IHOP".
Other IHOP eaters said that they were very surprised and happy with how much food one could get with a swipe (see swipe info below) and would defiantly be back frequently.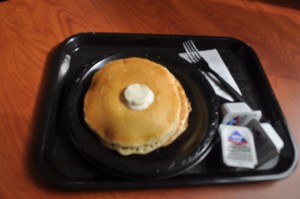 An added bonus to the fact that VCU now has an IHOP is that they are open until 3a.m. everyday, making it the only place on campus that takes Dining Dollars or swipes after 11p.m.
Over at Raising Cane's Chicken Fingers, the massive lunch time crowd seemed to overwhelm the new staff with wait times as long as 30 minutes to order and get food (at dinner time the crowds got worse and wait time was up to an hour).
"It is going to be a good four weeks [for the servers] to get everything down," Martin said about the wait.
Still, the new chicken eatery seemed to be worth the wait for students who said "I'm beyond satisfied" and that they would "never have to eat at Shafer again".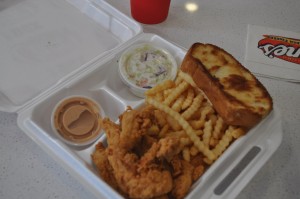 Raising Cane's has a limited menu of three meal options, but justifies their limited selection with their striving for quality food (even for college students). And on another note, the Raising Canes Chicken Fingers on campus is one of only three in the state of Virginia, so feel special VCU!
At Croutons Salads and Wraps, the menu has many unique options allowing students to create their own salad, wrap or make any menu item into a salad or warp. The menu also changes seasonally.
"It is really different from what [VCU] usually serves" and that there are a lot of "great options that are healthy," said Casey, one customer of Croutons. "[I'm] definitely interested in Croutons because I am a vegetarian," said another student named Cammy .
College students get excited easily about food; and food that takes Dining Dollars and swipes, that is something other then Shafer, well that's just icing on the cake.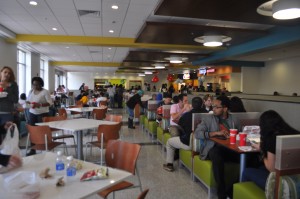 Meal Exchange
IHOP: Daily 8:30am – 10:30am, 5:00pm – 1:00am
— Express Quick – 2 Eggs served any style, 2 pieces of bacon or 2 sausage patties, hash browns, toast, and choice of 16 oz coffee or 16 oz fountain beverage 
— Rooty Tooty Fresh and Fruity Combo – 2 pancakes topped with fruit, 2 eggs any style and 2 strips of bacon or 2 sausage patties with choice of 16 oz coffee or 16 oz fountain beverage
— Ham and Cheese or Garden Omelet, 2 pancakes, and choice of 16 oz coffee or 16 oz fountain beverage
— French Toast Stack – 2 pieces of French toast, 2 pieces bacon or sausage, 2 eggs served any style, and choice of 16 oz coffee or 16 oz fountain beverage
— Bacon and Beef Cheeseburger, fries, whole fruit, 16 oz coffee or 16 oz fountain beverage
Raising Cane's: Daily : 5pm – Close                                                
— 3 Piece Meal Combo – 3 chicken tenders, French fries, slaw, Texas toast, sauce and 16 oz fountain beverage
— 3 Piece Sandwich Combo – 3 chicken tenders on bun, French fries, slaw, Texas toast, sauce and 16 oz fountain beverage
Croutons: Daily
— Signature or a salad of your creation, bread and 16.9 oz bottled water
— Signature or a wrap of your creation, a piece of whole fruit and 16.9 oz bottled water
— Pick 2 of 3 Combo – 1/2 Wrap, 1/2 Salad, or cup of soup and 16.9 oz bottled water