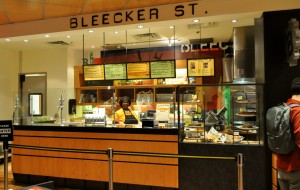 A business student favorite, considering it's in Snead hall. Sandwiches are very popular, as are their salads. They offer something easy for students to eat while they work or during class, which is perfect for VCU's own business building. It's good food.
OPTIONS
Sandwiches on various types of bread with limited customization. The option for toasting your sandwich is available. Soups, salads and pastries are also available. Everything comes with a fountain drink. It also doubles as a convenience store, with food already to go, as well as candy sales and such.
LOCATION
301 W. Main St.
HOURS
Monday-Thursday: 7:00 a.m. – 10:00 p.m.
Friday: 7:30 a.m. – 3:00 p.m.
Saturday-Sunday: closed
IF YOU HAVE A DINING PLAN
Sandwiches, soups, and salads are swipeable, and everything else can be purchased with dining dollars.
BUSY TIMES
It gets busy right after a business classes end, just like Starbucks. Everybody rushes in to pick up something quick to eat, so try to go during odd hours if you want to avoid the lines.
QUALITY
Bleeker Sreet sandwiches are some of the best tasting swipe options on campus. Its sandwiches are known by their names, and every business student has an opinion on it. In general, each item is will taste pretty damn good.
RECOMMENDED OPTIONS
The Smoked Ham and Swiss and the California Turkey never disappoint, but if you're in the mood for a Panini, try out the grilled chicken pesto. The four-cheese is a very popular option as well. If you're willing to spend dining dollars, then I recommend the chicken pepperjack, considering it's the best sandwich they offer. The roast beef can be a little risky, though. You will never know if it is actually going to taste good or not.
TIPS
Bleeker Street has a nice environment where everything is made in front of you. It's small and can't serve too many people at once. There are tables to sit at inside Snead Hall, however, and if you go often enough, the workers start to recognize you and your regular orders.
I have had one of your tasty sandwiches, the Smoked Ham & Swiss. I work at VCU Massey Cancer Center, I was wondering do you prepare sandwiches for large groups, maybe 10 or more?