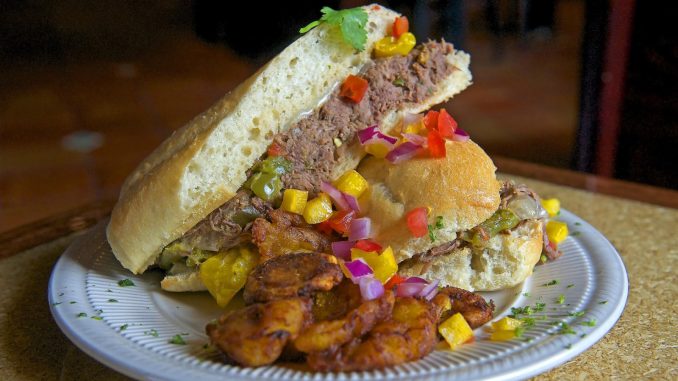 So you got the number of that cute person in your class, at that club meeting, or admittedly (let's face it) from Tinder. But now they want to meet, and you probably said "let's get food!" But you can't take them to Shafer or Panda Express, because you're almost an adult, or at least you're going to pretend to be. So where can you take them around campus, that's cheap (you're in college), has a good atmosphere and is most of all, delicious. Here are seven places to get that date off to a great start.
#1 Village  Cafe
1001 W Grace St, Richmond, VA 23220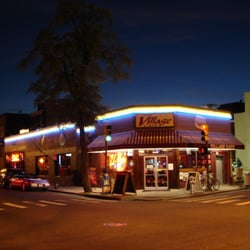 We all at some point have walked past those windows on Harrison St, peering in to find people cozied up in their booths, laughing with good food and good company. Every college town has that one spot where everyone goes to watch the game, meet up with friends or meet up with that special person. That spot is Village Cafe, known for its warm college atmosphere, good service and even better American style portions . Try the Village Fish & Chips , Reubens, and daily soups. If you and your date have any room left, remember to split one of their to die for milkshakes.
#2 The Black Sheep
901 W Marshall St, Richmond, VA 23220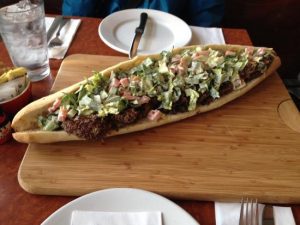 If you have not been to the Black Sheep, you are already doing something wrong. This small, but well decorated dining room is a great place to get know your date and the absolutely huge  sandwiches they have on the menu. Choose from the USS Lafayette (Spiced shrimp, artichokes), the USS Sultana (Grilled lamb, romaine, Russian dressing) or the delicious vegetarian USS Wyoming (grilled tofu, cilantro, eggplant). The Black Sheep also has a full list of entrees, but lets face it why are you passing it up larger than life sandwiches?  
#3 Deep Run Roadhouse
309 N Laurel St, Richmond, VA 23220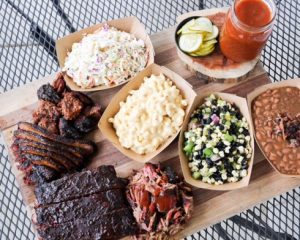 I know what you're thinking, bbq sauce, ribs, and moist towelettes. Why would I want my date to see me pile up the table with napkins, trying not to make a mess? Because Deep Run Road Roadhouse has some of the best Bbq in the city, and you can tell alot about someone by which type of delicious homemade bbq they slather on their entrees. You cannot go wrong with the Rope Sausage, Fried Catfish, Pulled Chicken, and Smoked Wings. But do not neglect the sides, Texas Cavier( black bean, corn salad), Sweet, potatoes, or a slice of cornbread slathered with too delicious honey butter could be eaten by themselves.Warning: if your person of  interest is a vegetarian, you should probably keep scrolling.  
#4 Elephant Thai
1100 W Cary St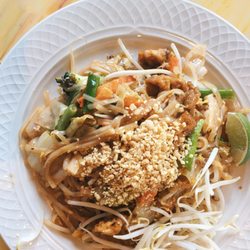 There are so many Thai places around Richmond, but only two on VCU's campus. The debate on which is better, Thai Top Ten or Elephant Thai can wait another day. Because right now it's about presentation, warm lighting, nice table cloths and attentive service. Which Elephant Thai has all of, in spades. The Cary Street restaurant will have you feeling fancy without that hurtful fancy check. Start out with some Fresh Rolls or Crying Tiger. You can never go wrong with the old faithful Pad Thai, but the Drunken Noodle, Panang Curry, and Crispy Duck with chili sauce are all great options. If you want to impress your partner with some reasonably priced, delicious Thai cuisine, you know where to go.
#5 821 Cafe
825 W Cary St, Richmond, VA 23220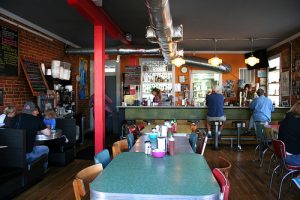 If your date strikes you as the casual laid back type, whose not trying to run up a bill, 821 cafe is the perfect place. Covered by homey brick with a niche' hipster aesthetic, 821 Cafe serves up delicious sandwiches, wraps, and burgers. But I'm going to level 821 is really known for its Breakfast and Brunch. Try any of the pancakes, omelettes, and nutella stuffed toast! Also if you are of legal age, their mimosas go great with a smoked salmon omelet.
#6  Foo Dog
1537 W Main St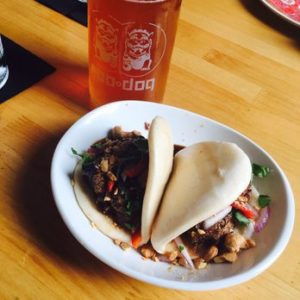 The easiest way to show your potential mate, that your fun,hip, flavorful, and above all different, is to be exactly like Foo Dog. The self-proclaimed "Asian Street Food experience" on W Main, has an asian decor with that trademark Richmond twist. Most of the menu is small plates built for sharing. Strongly recommend ordering at least two small plates per person. Spring for the pillow-like Bao Wow Buns, fiery spiced "Foo" Wings,  and the popularly tempting Shazam Shrimp. But if you're not much for sharing, the inexpensive entrees range from pork broth ramen to East-End Pad Thai. Every week Foo dog has happy hours for sides, wings, and select drinks so check the Menu.
#7 Kuba Kuba
1601 Park Ave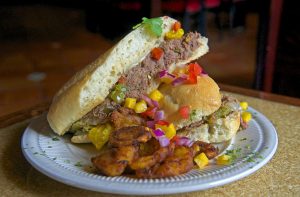 If you choose Kuba Kuba for your date, just know it'll be an experience filled with Cubano dancehall music, loud conversations, and food you can't find anywhere else. This small cuban cafe themed restaurant nestled on Park Ave, sports limited seating, so waiting, especially on the weekends is common. So if you manage to snag a booth you have already won. For the adventurous duo,  splitting a full size traditional Paella Valenciana is recommended if you both have a love for spanish rice, chorizo, clams, and mussels. If not the Kuban Roast Pork, Codfish cake sandwich, or even a classic huevos rancheros are all great options. Remember any meal at Kuba Kuba can't start without an order of salty platanos (platanos).
So now if you ever find yourself with that "Where you wanna go?"  text on your phone relax, you know exactly where to bring them. Now all you have to do is keep eye contact , not talk about yourself too much and hope they like the  food.
Final Thoughts
What are some of your favorite date spots in around VCU? What about RVA? Let us know in the comments.