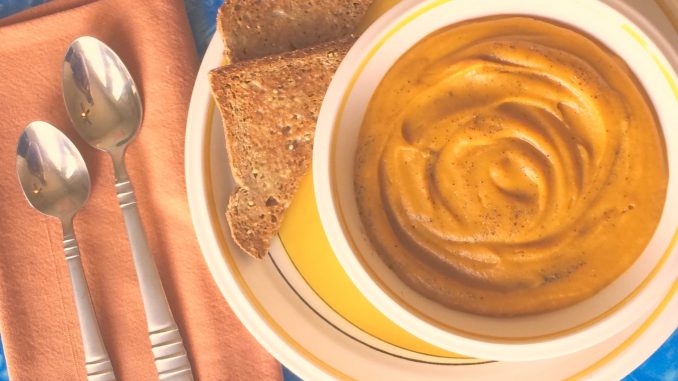 viaLia Ferro of The Vegan Club @ VCU
Here is the most simple and delicious soup recipe I have ever made. This recipe is very flexible, if you have more sweet potatoes or more carrots, add them! Got some green onions? Add them! But here is how I have been making it recently.
Ingredients:
1 sweet potato (pealed)
2 russet potatoes (pealed)
2 full carrots (pealed)
3 cloves of garlic
¼ of an onion
¼ cup nutritional yeast (optional)
Salt and pepper to taste
Instructions:
-Peel and chop your potatoes and carrots.
-Add them to a pot of boiling water and let cook until soft,
-After about 5 minutes, add your garlic cloves and chopped onion 
-Do not drain, keep the liquid!
-With aslotted spoonremove your veggies and add into a blender with your spices.
-Use the cooking water to help blend, start with a cup and add more liquid as needed.
Enjoy!