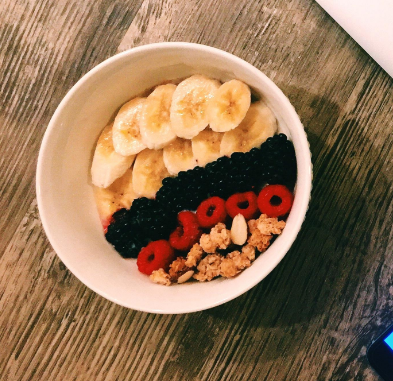 It's fall! Unlike your grandma's pumpkin pie, this week's recipe is not going to be a burden or a task to make. This yummy snack is fairly quick and easy but also packed with vitamins and antioxidants. A bowl of oatmeal with fruit is a great way to regain lost nutrients during the hectic work week, pack on some energy for the gym, or even a great start to a busy day. And this one's tasty, too! Not only will it keep you satisfied and full of energy during the early morning slump, but it will allow you to add a great and necessary component to your diet if you are looking for healthier options for breakfast. Let's get started!
INGREDIENTS
1 cup of raw oats
2 cups of milk
1/4 cup of sugar
2 pinches of cinnamon
1 pinch of salt (optional)
Granola
Fruit:
Raspberries
Blackberries
Bananas
DIRECTIONS
*Note: This recipe serves 2 people. If it's being made for 1 person, just cut the measurements in half. Still delicious no matter the serving size!
In a small-medium sized pot, bring the two cups of milk and two pinches of cinnamon to a simmer. We usually cover the pot so the boil can be faster. Be sure to stir occasionally or else the milk will start to bubble and foam. Reduce heat if necessary. 

Add the raw oats to the simmering milk and cinnamon, and stir to blend in all the flavors. If you want to add the pinch of salt, now would be the time to add that as well (this is optional).

With the heat at medium low, add in the sugar and stir. We're looking for a nice thick texture from the milk and the sugar. Having the heat low will also cook the oats through. This process takes about 7-10 minutes.

Once the oats are cooked through, turn off the heat and set aside.

Cut up all the fruit, this doesn't have to be the ones we necessarily used, as it was just a preference. Feel free to use any fruit of your choice.

Dish up a bowl of oatmeal and add the fruit topping as desired. The granola is optional as well, or you can also add any seed of preference. Enjoy!