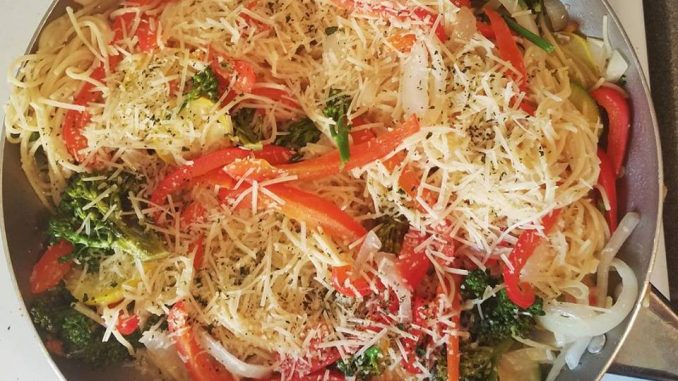 Fall time means one of two things to us young adults: sweater weather and cuffing season.
For a college student, that should also mean you need to finally findthatdish. You need to find that one satisfying, comforting dish that you can make when you want to impress someone, or just warm up yourself. Pasta is always a good go-to, but the great thing about pasta primavera is that you don't have to feel so guilty about it because it's a pasta dish with a ton of colorful veggies.
Ingredients:
Produce
2 cups broccoli florets

½ cup diced tomatoes

½ cup matchstick carrots
1 tbsp minced garlic
½ red bell pepper, thinly sliced
½ yellow bell pepper, thinly sliced
1 yellow squash, small and thinly sliced
1 zucchini, small and thinly sliced
½ onion, thinly sliced
½ lemon, juice of + ½ tsp zest
1 tbsp basil, fresh and chopped
Pasta
Oils
1 ½ tbsp extra virgin olive oil
Dairy
1 tbsp butter

⅓ cup shredded parmesan cheese
Liquid
½ cup white cooking wine (or white grape juice for those of you under 21!)
Instructions
Bring a large pot of salted water (I use olive oil) to a boil and cook the pasta. Once cooked, remove with a slotted spoon and reserve in a bowl. Do NOT drain the water.

Bring the water back up to a boil and cook the broccoli, bell peppers, and carrots until they are bright and tender crisp (2-3 min.)

Drain the veggies and set aside. (You may dispose of the water now)

Heat a large skillet over medium heat and add the oil, butter, onions, and garlic. Cook until the onions are soft (4-6 min.)

Add the zucchini, squash, and tomatoes and continue cooking until they begin to soften (2-4 min.)

Adjust the heat to medium-high and add the set-aside veggies, cooking wine (or juice) lemon juice, and lemon zest and simmer until the sauce slighty thickens (3-4 min.)

Reduce the heat to low and add the set-aside cooked pasta, cheese, and basil to the skillet

Mix it in, and enjoy!
***this is a pretty big dish and makes a lot, I would recommend a large, deep-set fry pan or a saute pan.
Final Thoughts
Will you be trying this recipe? What are some over your favorite pasta dishes to make? What's your favorite seasonal pasta dish?