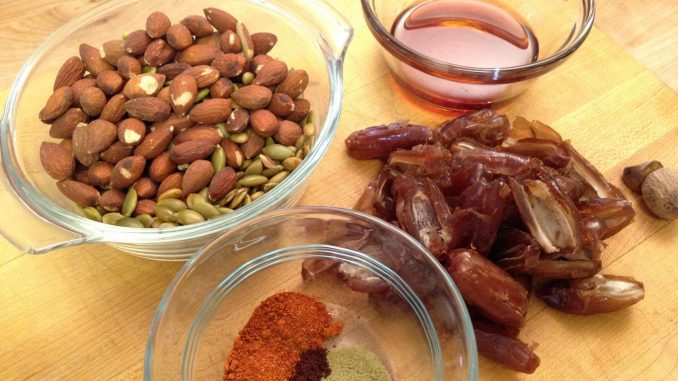 via Nicholas Thomason with The Vegan Club @ VCU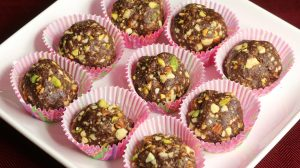 One of my favorite no-cook recipes is date balls! They are super easy, pack with a tons of nutrition, give you a burst of energy, and can even satisfy that sweet tooth! Normally, I make a big batch of these on Sunday night and snack on them throughout the week — particularly when I get back from runs and need a quick pick-me-up. I originally used this recipe by my favorite YouTube chef, Manjula Jain, but adapted it slightly to fit whatever I had on hand at the time. If you have a spare minute, check out her YouTube channelor website for some delicious and easy vegetarian or vegan recipes.Here's how I do it:

Ingredients:
-1 cup pitted dates
(I buy my dates fromBhavani Cash and Carry on W. Broad Street, where I have found the best prices and selection of dates)
-Approximately* one cup of roasted unsalted nut(s) of choice
(almonds, pistachios, walnuts, and pecans all work well)
-2 tbs cocoa powder

*you can adjust the amount of nuts based on how nutty you like things
**Get creative — add whatever else you have on hand to make these your own — sometimes I'll add a tablespoon or two of peanut butter, some shredded coconut, and even a pinch of cinnamon!

Instructions:
Step 1: Add dates and cocoa powder to a food processor and blend until smooth.
Step 2: Add nuts and whatever other ingredients that float your boat; process until you get a chunky paste
Step 3: Refrigerate the dough paste for about an hour or until it has stiffened
Step 4: Take roughly tablespoon clumps of dough in your hands and form into balls (or whatever shape pings your pong — I would like to try to roll out the dough and cut out shapes with cookie cutters… maybe give that a try!?
…Eat!

Linkto original recipe