By Contributing Writers Nicolette and Katie Tufan
INGREDIENTS:
(SERVES 2-4)
2 CHICKEN THIGHS AND 2 DRUMSTICKS CHOPPED IN BITE SIZED PIECES
Seasoning:
 Lemon
 Salt
 Cumin
 Garlic Powder
 Pepper
 Honey
 Teriyaki Sauce
SPINACH OR GREEN SPRING MIX
CHERRY TOMATOES
CUCUMBERS
MUSHROOMS
BUTTER
OIL
CORN OR FLOUR TORTILLA DISCS (OPTIONAL)
SESAME SEEDS FOR TOPPING
CANTINA CHIPS
HONEY MUSTARD FOR DRESSING (OPTIONAL)
DIRECTIONS:
Tonight's recipe has a little bit of everything, and a whole lot of colors. If you want to impress your friends or if you're just in the mood for whipping up something flavorful and fun for yourself, this recipe will dazzle your taste buds and have you wanting to recreate it in several variations. (We're dealing with dark meat here, so for those chicken breast lovers out there, we'll have something for you soon.)
1. Start by slicing open the chicken and chopping them up in small bite size pieces in any way you like. There really isn't a right way to do this, plus we're pressed on time here right?
2. Season your chicken bits with lemon, salt, garlic powder, cumin, and pepper. This has been a secret poultry seasoning my grandmother taught us and we've used it ever since!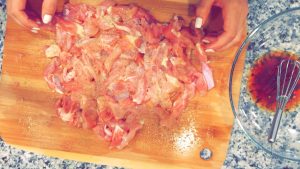 3. In a large bowl, mix the two tablespoons of honey and teriyaki sauce thoroughly.
4. Take your seasoned chicken and transfer it to the bowl with the honey sauce. Coat all of the chicken pieces with the sauce.
5. In a large pan over high heat, add about a tablespoon of oil. Once the oil is heated, mix in the chicken so it can start cooking. *HELPFUL TIP*: you might want to keep the chicken on high heat the whole way through,  since we're dealing with honey, the thickness gives it that sticky texture that you'll love at the end.
6. While that's cooking, take the tomatoes, cucumbers and mushrooms and dice them up. Remember, bite sized pieces. Key.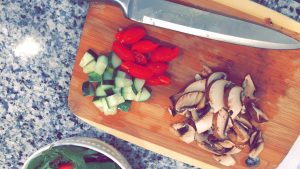 7. Go give your chicken a quick mix.
8. Sauté the mushrooms with half a teaspoon of butter and a little bit of oil, and a pinch of salt. When done, set aside.
9. When the honey sauce completely evaporates, move the chicken around and lower the heat to medium-low. Keep on moving the chicken till it gets that golden brown you'll adore. Set aside.

10. Heat up the tortillas in a small pan on both sides.
11. Once all the main ingredients have been cooked and chopped, it's time to assemble the taco bowls!
12. Gather the tortillas that have just been heated and place in each bowl, add the spinach or spring mix on top, followed by the chicken, mushrooms, cucumbers and tomatoes. Sprinkle a pinch of sesame seeds on top, and add a few crumbled chips. Finish off with honey mustard. Enjoy!
To see videos of the process, click below!
video-1video_1video_2video_3video_4video_5