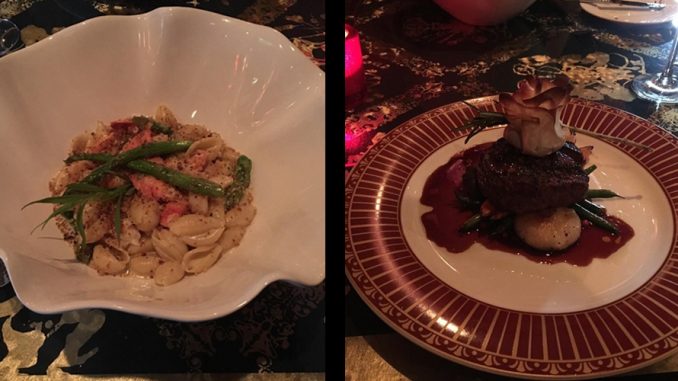 By Nicolas Desouza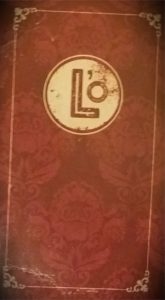 If you're looking for the perfect place to sweep someone off their feet, look no further. This hole in the wall French restaurant is one of Richmond's best date night restaurants. As attractive as this notion may sound rest assured that this exquisite dining experience requires a reservation and has equally exquisite pricing.
As I stepped out of the Oregon Hill environment that I am so accustomed to, I walked into a somber and cozy lounge decorated with kooky, classy and outlandish art. After being greeted I took a look at the menu and to my amazement the always changing menu options reflected the all over the place nature of the décor. I relished in the thought of flavor combinations that I never thought could marry. It was only when I heard the specials that I came to realize that the menu descriptions only scraped the surface in describing all the ingredients in each dish.  
We decided to get the French Onion Dip Gratiné with Brandied Figs on a pecan-currant rye bread as an appetizer. Although I must say it was great, I didn't feel that it was exceptional. It was by all means enough to make me curious about how some of the other appetizers would taste. With names like "Polyamorous Hippie Three-Way" and "Juniper Encrusted Carpaccio of Venison" how could one not?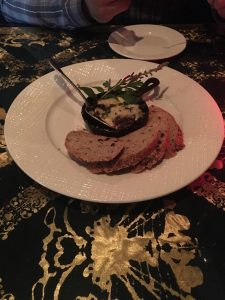 I ordered the Filet Mignon of Beef Swellington featuring white truffle oil, duck butter, pink peppercorns and a port wine reduction. My date ordered the Swanky Mac featuring Lobster, swiss, asparagus and white truffle mornay cream.
This was the best steak I have ever had. Cooked medium-rare to perfection everything in this dish was so simple yet every bite was so exquisite. With just enough port reduction to soak every bite I couldn't help but take my time eating in an effort to make this taste bud euphoria everlasting. It's not every day we get the opportunity to treat ourselves but this dish made me thirst for the financial security to one day be able to enjoy fine food ona more regular basis.
After everything somehow we were able to find room for desert. The waiter told us about the desert special in such a way that we simply had to try it. Pictured above is that desert special. To keep it simple L'opossum made a foie gras bread pudding and with tons of different bourbon-esque delights. I mean just look at the bourbon candy on top of that thing. They found a way to deconstruct a traditionally salty dish into a tasty desert with bourbon and strawberry flavors.
We also decided to split their pineapple-rum upside cake called "Swashbuckling Bundt Pirate Drenched in Hot Buttered Rum". However delicious this cake was, it left nothing to the imagination. This desert was 'magnifique' and tasted exactly as you would expect it to.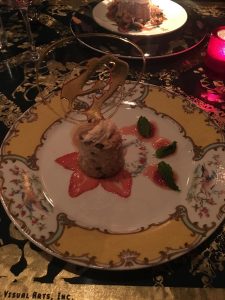 All in all if you're looking for a great date night restaurant where you can feel fancy without feeling like a stranger I recommend you give L'opossum a go. I certainly don't regret it. In fact, I cherish the experience even after having received the over $100 bill.