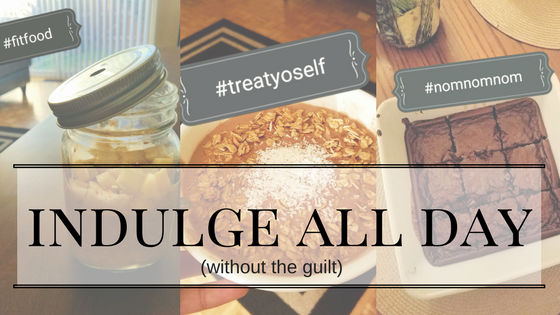 Anyone who knows me knows that I have a notorious sweet tooth and whenever I see cake, pie, brownies, cupcakes, or any form of a "pastry", I have very little self-control. I have tried to cut down on sugar, but it seems any diet that includes the elimination of it is impossible for me. So, I have decided to stop denying/torturing myself and indulge in my indulgence. It's important to listen to your body and not deny yourself, but if you find the right combination and healthy substitutes, you can bake your health-conscious cake and eat it too.
So I've decided to make this week chocolate week. Chocolate isn't usually my go-to sugar craving, but last week I found some new recipes and ingredients and decided to go all out. I found three recipes that will curb your cravings morning, noon, and night. And the best part? They all include pretty much the same ingredients so you're not running around looking for a bunch of different things.
The Basics
Vanilla greek yogurt
Vanilla almond or soy milk
Cocoa powder
Cacao nibs
Rolled oats
***Special note: to all of my VCU/RVA peeps,Ellwood Thompson's allows you to buy these dry ingredients by the pound. The powder and nibs are a little expensive (cocoa powder is around $12/lbs., but honestly who needs a whole pound of cocoa powder? I can usually get away with a quarter pound; it costs three bucks and lasts a few weeks).
Breakfast- Chocolate Overnight Oats
Ingredients:
½ cup milk
2 tbsp greek yogurt
1 tbsp chia seeds
½ cup oats
1 tbsp honey
1 tsp cocoa powder
1 tbsp cacao nibs
½ cup fresh fruit of your choice (I've used strawberries, bananas, and apples), chopped
Directions:
Set the chopped fruit aside in its own separate container in the refrigerator for the next day. Combine all of the other ingredients thoroughly in the container you will be eating it out of (I like to use a mason jar). Store it in the fridge overnight. The next morning, when you're ready to eat your yummy oats, pour your chopped fruit on top and enjoy!
Midday Snack- PB + Chocolate Banana Bowl (or popsicles!)
Ingredients:
½ cup milk
2 tbsp greek yogurt
1 tbsp chia seeds
2 tbsp peanut butter
¾ tbsp cocoa powder
1 tbsp cacao nibs
1 banana chopped
3-4 ice cubes
Toppings of your choice (*granola, fresh fruit, chia seeds, cacao nibs, shredded coconut, etc.)
Directions:
Combine all of the ingredients in a blender and blend until smooth. Pour your mixture into a bowl (if you want to thicken it up just a little more put the bowl in the freezer for 10-15 min.). Add your toppings and enjoy!
***if you would prefer to turn your smoothie into smoothie pops just pour your mixture into popsicle molds (with sticks of course!) and stick them in the freezer for a few hours.
******SPECIAL TIP: for an easy way to pull your pops out of their molds, stick the mold into a cup of warm water for 30 seconds, pull out the pop, and enjoy!
Late Night Bites- Brownies
Ingredients:
¾ cup greek yogurt
¼ cup milk
½ cup cocoa powder
½ cup oats
½ cup coconut sugar
1 egg
⅓ cup applesauce
1 tsp baking powder
1 pinch salt
Directions:
Preheat the oven in to 400°F. Grease a square baking dish (8×8).
Combine all of these ingredients with in a blender (I use my trusty-dusty $20 Cooks sport blender!) and blend until smooth. Pour into the dish and bake for about 15 minutes. Allow to cool completely before cutting into 9 large squares.
Enjoy these awesome recipes, and tell us what you would make during your #chocolateweek!