Opinion by Connor Campbell (Proud Smoker)
There once was a time where one could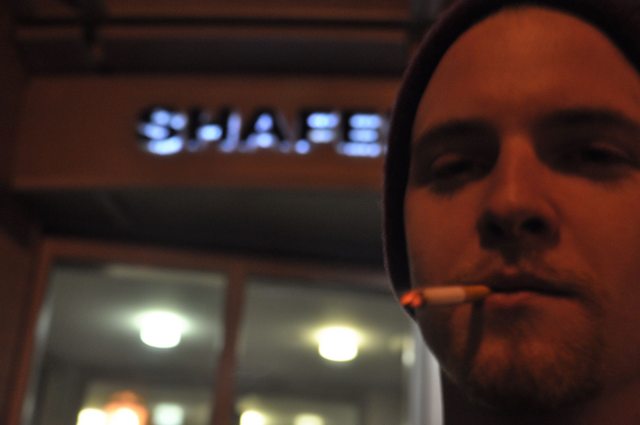 sit at the bar, have a beer and enjoy a cigarette.One wasn't forced to walk out in the rain and cold to have a smoke. One was able to enjoy the same comforts of an establishment as the rest of the patrons.
There once was a time…
We all know that smoking is an awful habit.It is unhealthy in every fashion and there is no argument to prove otherwise. But should smokers be treated differently because of their habit?
I think that the anti-smoking campaigns have gone beyond informing the public ofthe dangers of cigarettes and moved to an attack on smokers themselves.
From a very young age children are taught and trained to associate cigarette smoking with a kind of moral weakness in people.Everyday people turn glares at smokers as they pass them in public with disgust.The movement to stop people from smoking before they start has become a movement to reprimand and guilt current smokers into quitting.
This is all well and good, but it comes to the point where a person's character is judged, based on a habit they have.It would be small minded of me to say that everyone has this aggressive standpoint because it is simply not true, but this mentality has affected public opinion to a certain extent.
The dangers of cigarette smoking have been known long before any laws to prohibit it were created.It started out as a socially acceptable and extraordinarily popular habit.Once people started dying from blackened lungs, it was finally put together that cigarettes could possibly be unhealthy… shocker.
Some people quit, others didn't want to, and many plain couldn't.Whatever the reason, the public put up with smokers until research discovered second hand smoke could be unhealthy. There was a push for smoking and non-smoking sections in restaurants and bars, the bars usually being the smoking section because of the popular combination of alcohol and nicotine.
This worked just fine, until the anti-smoking campaign became, in my opinion, aggressive, claiming that "non-smokers should not be subject to cigarettes dangers."It was at that point smokers would be sent outside, so they wouldn't bother others.
Today, in most states smoking is completely prohibited in all public buildings, unless there is a separate, completely closed off area the size of a shoebox.Now it appears that the smoking community is being forced to accommodate the non-smoking community.
I'm not saying people should be forced to sit in a smokey bar if they don't want to, because it is their right as an equal citizen to be comfortable wherever they are. Likewise, I don't believe a someone should have to leave somewhere just to have a cigarette, because people should have the right enjoy their meal, drink a beer and smoke a cigarette in doors.
The answer?According the Virginia Department of Health, restaurants and bars may have a smoking section if it is in a separate room with a ventilation system. Your local business owner might see this as a costly fix, but an increase in smoker clientele may make it well worth the investment. I'm sure there's a way we can all enjoy a meal and a beer under the same roof.
В 
Did you like this? Share it:
Did you enjoy this post?Why notleave a comment belowand continue the conversation,orsubscribe to my feedand get articles like this delivered automatically to your feed reader.