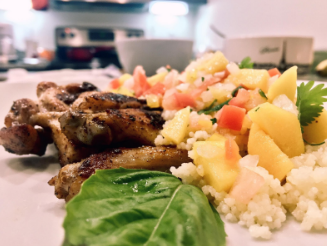 By Contributing Writers Nicolette and Katie Tufan
If you're starting to notice a trend here with our meals, you're right. There's a protein, an occasional carb, and plenty of veggies or fruits, or a mix of both. That's because we've always been advocates of healthy eating, and a balanced diet. We're no one to tell you how to eat, but this has been our personal preference ever since we were little. Our grandmother always made us pay close attention to what we ate, how we ate, and our portions. By no means does that mean she was obsessive about it, on the contrary, we were just blessed to have someone show us how a healthy lifestyle not only means being active, or going to the gym, it starts in the kitchen.
INGREDIENTS
4 CHICKEN WINGS
    Seasoning:
     Lime
     Salt
     Pepper
     2 Medium Garlic Cloves (minced)
     Cumin
1 CUP OF PLAIN COUSCOUS
1 MANGO
1 TOMATO
1/4 ONION
1/4 RED PEPPER
CILANTRO
DIRECTIONS
This week's recipe has some of fastest carbs you can get: couscous in 5 minutes. If you've never had couscous, it's a tiny little wheat grain that you can either buy plain or with flavor added. We suggest you go with plain for this recipe, since the mango salsa will give it that extra flavor it might miss.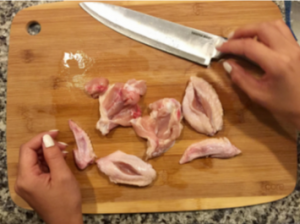 Take the chicken wings and cut them into pieces to make the cooking process quicker and easier. We're putting these in a pan, so cutting them into 3 pieces will help you get these cooked a lot quicker than if they were whole.

Season the chicken wings with half a lime, salt, and pepper.

In a small pan on medium high heat, add a tad of oil and once the oil is hot, take the minced garlic cloves and sautée with a pinch of cumin. Take the chicken wings and place them in the pan once the garlic is golden brown.

While those are sizzling, take your mango, tomato, onion, red pepper, and cilantro and dice them into small pieces. I left our mango pieces a bit thicker to get a bite size of mango in every forkful. This is really a personal preference, so no worries if it looks thicker or smaller, as long as you get through the chopping process quickly.

Don't forget the chicken. Turn it around and make sure they continue to get golden brown. What we're doing here is simply "asado" which technically means grilling in Spanish.

Take all your chopped fruits and veggies and mix them together in a bowl with the cilantro. Add about a tablespoon of olive oil and the juice of a lime. Add a pinch of salt, mix the salsa, and set aside.

About 15 minutes in, your chicken wings should be close to being done if not actually done, depending on how small the pieces are. Once they're cooked all the way through and have that finished look, set them aside.

The last part in this process is probably the craziest and most fun. Probably because it's easy, but I learned this from my mom. The directions for making couscous are literally on the box, but if you're trying to have fun with this, take about a cup and a half of water and bring it to boil with a tablespoon of butter.

Place your cup of uncooked couscous in a nice large bowl.  Remove the boiling water with butter and pour it into the bowl of couscous and mix it around. Take plastic wrap and seal the bowl and watch it grow for 5 minutes.

After the 5 minutes, or when the couscous has entirely absorbed the water, fluff the couscous with a fork (this technique is called "forking"). Serve with the mango salsa on top and the chicken wings on the side. Enjoy!
Wanna see how it's done? Check out our video tutorial below!