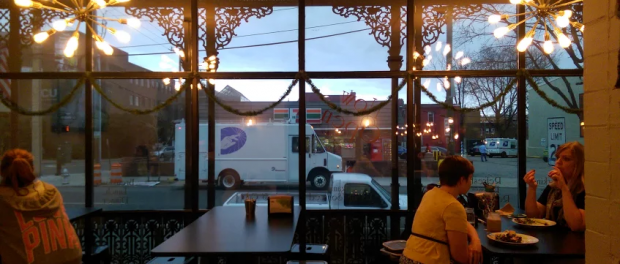 Contributing Writer
Nick Desouza
From the mason jars fashioned into light fixtures, to a daily punny joke etched onto a blackboard, one can tell The Pit & The Peel was molded with Richmond's twang in mind. Opened in June of 2015, the Pit and the Peel strives to provide people with healthy eating options using locally sourced ingredients within a stone's throw from VCU's Monroe Park campus.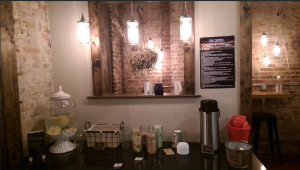 Upon entering I found 3 tables conveniently located next to a shelf filled with my childhood's favorite board games. Sock em' Bop em' Robots, Connect Four, Jenga; they're all there for you to enjoy. The front of the restaurant features windows from the floor to the ceiling, letting in plenty of natural light. Located by the corner Main and Harrison, these windows allow for some serious people watching.
The restaurant serves seven signature smoothies and nine juices that allow customers to pick decadent drinks like Peanut Butter Cup, bitter drinks like Zinger, and even fruity drinks like Pina Colada. Perhaps the only thing better than the flavor combinations they offer are the ones that you can craft yourself. The cashier was eager to recommend that I add or take away ingredients for no extra charge. If you're hungry they offer a hearty list of healthy eating options such as wraps and paninis. However, if you aren't in the mood for a healthy option with your beverage have no fear. The restaurant is connected to one of Richmond's beloved pizza places, Piccola's.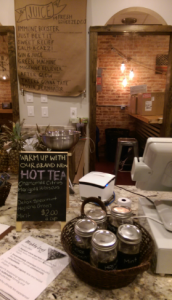 Nevertheless, I decided to go with a Banana-Berry smoothie. When I took the first sip out of my mason jar, my tongue was greeted with the creamy and thick consistency of almond milk and banana, only to be accompanied by the sublime yet subtle sweetness of honey and strawberries. Above all, my smoothie tasted fresh. I just had to take out my straw and take a solid slurp in order to feel the milky froth of the smoothie rest on my moustache. The feeling brought me back to being a kid and licking off the froth from a cold glass of milk on my upper lip. After I finished my smoothie I was given a goodbye, accompanied by a warm smile and a complimentary glass of lemon-infused water.
The Pit & The Peel is a definite keeper. For $6.60 the beverage of your choice can be yours, and food items for under $10. This juice bar and bistro is the perfect place to bring a date or just get away from it all with a fresh glass of whatever fruitful flavor combinations float your boat.