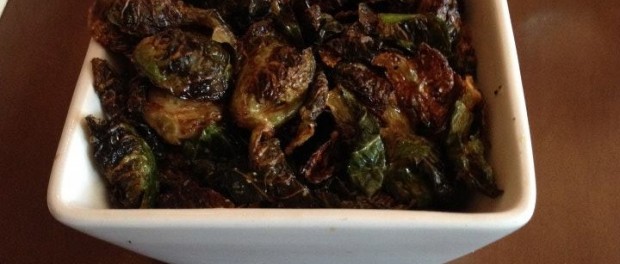 Taylor Thornberg
Contributing Writer
When The Daily first opened in Carytown last summer, I often passed by and was drawn to its amazingly chic décor and lovely patio that gave a view of the well-decorated restaurant. The look of it gave me high hopes for the newest addition to a strip of restaurants I knew and loved.
And I was not disappointed.
I went on a Sunday night and sat inside, so I could get a better feel of the atmosphere, and found it to be quite busy, but not chaotic in the least.
When I sat down, I had a clear view of a chalkboard hung on the wall, which listed all the farms where they sourced their meats and cheeses. Since I am a huge supporter of buying local produce and meats, I found this to be quite comforting.
Though it took my server a few minutes to reach me, she was very friendly and helpful, and gave a bit of insight on personal favorites on the menu. Several other staff members approached me during my meal to make sure I was taken care of, and I was very pleased with the attentive service.
The menu offered a myriad of fresh cuisine with many different tastes, and just about everything could be made vegetarian, vegan, or gluten-free. They have small plates, soups, salads, sandwiches, flatbread pizzas, and specific vegetarian, seafood, and meat entrees.
The Daily's bar offers organic cold-pressed juices from Lumi in Charlottesville, homemade cocktails and mocktails with organic vodka, beer from local craft breweries, and an extensive wine list.
I perused menu items like crispy skinned rockfish with black lentils, a vegetarian mushroom risotto with goat cheese, and a mushroom and kale pizza before finally deciding on the seared rare tuna salad and a side of crispy Brussels sprouts to start (I am a Brussels sprouts fiend).
The Brussels sprouts were close to the best I've ever had; they had crisp outsides without being over-done, and were seasoned with a salty-sweet mixture I thought might include a bit of honey. I could only eat half the order, but gladly took home the rest to eat the next day; they were just fabulous.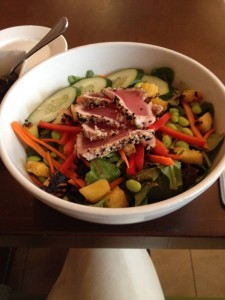 The salad was comparatively bland, but every ingredient was very fresh, including seared rare tuna with a sesame crust, edamame, red pepper, grilled pineapple, cucumber, and mixed greens with a sesame dressing.
The dressing was not all that flavorful, but I think a different dressing, maybe a vinaigrette, and a bit more seasoning on the tuna would have brought the salad together better.
The prices were what you would expect from a relatively upscale restaurant, but fitting for the amount of fresh food I was getting. The salad and the huge portion of Brussels sprouts came out to be about $18.00, which I felt was reasonable since I was taking home half of each dish.
I would definitely come back, and I would recommend The Daily for a nice date night, or dinner with your parents, especially on a warm evening when you can sit on the patio. This is a tasteful, modern, and environmentally conscious restaurant, and certainly my new favorite in Carytown.