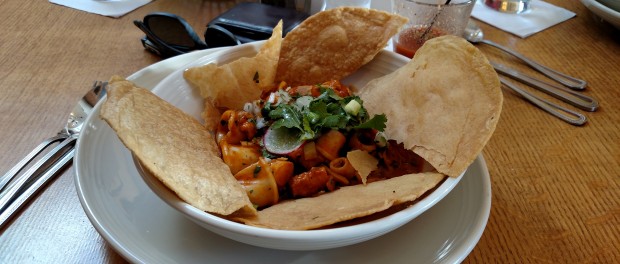 Contributing Writer
Grant Smith
Rancho T is the most recent chapter in the ongoing saga of Richmond food rapture. The restaurant could be described as a latin-inspired Tex-Mex cantina, but it can not be fully defined without proper context. This restaurant is the lovechild of two monumental names in Richmond's food scene. Owners Tuffy Stone a celebrity chef from Destination America's television show "BBQ Pitmasters" and Ed Vasaio the eccentric owner of Mama Zu's, Edo's Squid, Dinamo, and 821 Cafe. Both are local legends.
Situated across from Lamplighter Roasting Company on 1 N. Morris St, the location is incredibly convenient close to campus.Upscale but affordable, a full-service bar and accommodating service staff provides an apt destination to bring a date, visiting parents, or a party of friends. Lunch prices average around $12 whereas dinner entrees vary towards $15. A handful of specials consistently diversify the modest menu.
While Tex-Mex and Italian food might seem like opposite ends of the spectrum, a handful of similarities can be drawn between both of Vasaio's restaurants: Rancho T and Edo's Squid. At both restaurants the entrees are individually focused on complimenting the pivotal ingredient. Creative combinations evoke a powerful sense of character for each individual dish that makes a rhetorical appeal to the diner's heart and tastebuds. Whereas Edo's Squid maintains a consistent heavy hand with garlic, Rancho T replaces this obsession with a wide variety of peppers. From taste and observation, it appears that Rancho T sources the same high quality ingredients as Vasaio's other restaurants.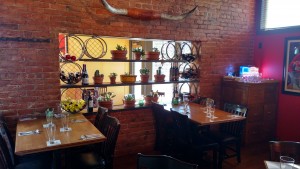 Feeling adventurous and having a strong conviction for Vasaio's standard of excellence, I ordered the special "Pulpo Especial." This dish is a medley of steamed squid and octopus immersed in a savory pepper sauce with onions and cilantro. This dish arrived framed by freshly fried tostadas. Having a strong affinity towards seafood, I thoroughly enjoyed this dish. The squid and octopus had a perfect supple texture, the sauce had a thick consistency and added numerous layers of flavor. The heat of the peppers were apparent and when I finally took a break from devouring the dish my eyes began watering judiciously.
Octopus, even squid, might make many with a less diverse palate cringe but there is something to be said for the proper execution of these dishes alone. All too often, these cephalopods are prepared like an unholy medley of car tire rubber and plastic bag.
The other members of my party stuck to more traditional choices, but approval was ubiquitous.I sampled the taco plate, a Rancho T staple, priced at $12. They offer several choices of fillings including beef, chicken, and fish. The dish arrived with chunks of grilled fish, beans, guacamole, and freshly steamed tortillas. The Gringo Burrito, Huevos Rancheros, and Sweet Corn Tamale are several other standard menu entrees, but upon your visit I strongly recommend one of the daily specials. At Rancho T, you should not be afraid of a little adventure.
The most impressive attribute of this restaurant was the atmosphere. Vasaio is notorious for his cramped, loud, and uninvolving interiors. At Edo's Squid you are crushed against the miniscule bar waiting for a table that, when busy, requires you to roar at your companions for any conversation to be audibly registered. The space might be slightly more decorated at 821 Cafe and volume not quite as extreme, but it is still one of the louder brunch locations in the area. Let's not even mention the infamously lackluster facade and brusque service of Mama Zu's.
Rancho T, in comparison, is a breath of fresh desert air. The interior, seating up to 80 patrons, is spacious and warm. Signature brick and hardwoods are softened by a warm adobe orange on the walls. Art Deco posters of old John Wayne westerns and potted cacti cover the walls. The serving staff was accommodating; for a late lunch, there was no wait to speak of. Rancho T incorporates the winning attributes of Vasaio's growing enterprise with the barbeque expertise of Stone's celebrity brand. Together they have created a welcoming oasis in a desert void of creatively upscale Tex Mex dining.