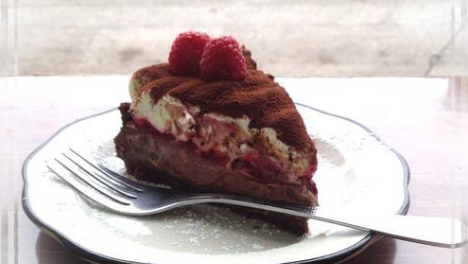 Amelia Heymann
Contributing Writer
When you hear about Proper Pie, it makes you think of pastries with flaky crust, set upon white lacy doilies.  While the former is true to its nature, the latter is not.
Proper Pie is a hole-in-the-wall on east Broad with a nothing but a few tiny tables and a countertop. It's not designed for sit-down eating, but it's a bit cozy with the right company.
All of their food items are kept on display.  They store their desserts along the countertop and in glass casing.
The pies are all kept within a heated case to ensure the pies stay warm.  The smell of meat pies fills the entire store, and travels outside.  When I was waiting for the store to open, a couple other people decided to wait in line due to the smell alone.
Proper pie's menu is well-rounded. It has something for everyone, unless you're expecting pizza.  In that case, you're at the wrong Pie.
I ordered a lamb and vegetable pie, a cup of coffee and a slice of chocolate raspberry cream pie.   The price range is very reasonable, with a slice of sweet pie around three dollars, and a savory pie, a meal in itself, around six dollars.
While most of their savory pies are meat- or cheese-filled, they have a couple vegan options.
And of course, there is sweet pie.  After all, what's a pie restaurant without a little apple or chocolate pie?
If pies aren't  your cup of tea,  which makes me wonder why you're in a pie restaurant in the first place, they also have dessert bars and cookies.
They also have coffee, but after a sip, you'll know why no one talks about their coffee. But they do have Mexican Coke which is exciting and hard to come by in Richmond.
The meat pie was served in a paper bag surrounded by wax paper. Unwrapping the pie was like opening up a present which only helped add to the anticipation of eating it.
My golden brown  pie was wrapped in a thick crust  that kept all of the filling safely inside.   It was flakey enough that the texture was moist, but solid enough that the whole pie didn't fall apart.  On top they had sprinkled a few spices, giving the pastry an old-fashioned feel.
Each pie was stuffed  with lots of filling, which helps make sure that no bite is too filled with crust, or boring.  The sauce was heavily flavored, but the crust provided balance.
The lamb was of fair quality, but there weren't a lot of vegetables in the pie but a few carrots.
After I finished the pie I moved onto dessert.
The chocolate raspberry cream pie was set delectably on the plate resting on a bed of powdered sugar.
The crust was thick and made of chocolate crumbs, and the pie filling was a layer of chocolate cream, raspberry filling, and cocoa powder with two plump raspberries at the top.
The flavors balanced nicely, and they all seemed to work well together rather than trying to overpower one another.
With the exception of the salted caramel ice-cream at Can Can, this pie has been the best dessert I have put in my mouth since coming to Richmond, and I do not take chocolate lightly.
While the desserts are to die for, and the savory pies are good, they have much to be desired elsewhere.