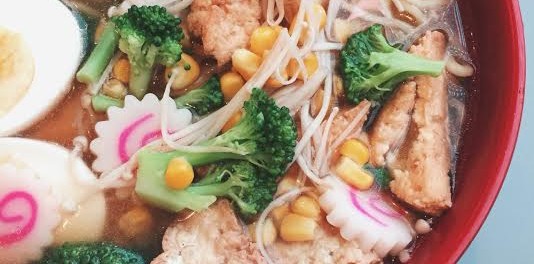 Contributing Writer Grant Smith
Sprawling across the walls, a mural depicts a battle scene reminiscent of 90's animated cartoons and japanese manga. An enormous octopean monster coils in the clouds in conflict against robotic giants detailed in torch reds and cerulean blues. The mural, along with a fluid rainbow of color-changing light bulbs spread on the ceiling, empowers the atmosphere with animated warmth and advances the restaurant's fun, upbeat character.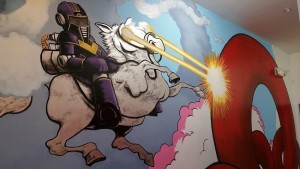 Carytown-located Spiral Noodle opened in early June and is the newest restaurant seemingly skirting the coattails of Foo Dog's trendsetting ramen— but with several original innovations and a healthy injection of personality, Spiral Noodle is certainly worth a visit.
Richmond might have reached notoriety as a foodie destination for creative southern cuisine, but locals enjoy an array of vibrant and colorful ethnic eatery options. In the past year a new trend has exploded onto the scene: oriental soup, more notably ramen.
Before Spring 2014, Richmonders and VCU students were limited to mostly Pho noodle soup at mom and pop shops, such as Saigon on West Grace Street. Foo Dog opened last year as a hip ramen eatery. With a quirky thematic atmosphere inspired by japanese manga culture, extensive drink specials and fresh noodles sourced from New York City, the restaurant quickly made a name for itself. Several months later, Shoryuken Ramen opened up on Franklin Street specializing in Japanese style ramen.
Spiral Noodle diverges from its competition by offering customizable noodle fusion. Other restaurants might offer specific regional varieties of oriental noodle soup, but at Spiral Noodle you can choose from all of them, or take your favorite ingredients from each. The menu details a variety of traditional appetizers and a few pre-planned entrees, but a checklist lets the guest chose their made-to-order oriental noodle adventure. Drink options include a fully stocked bar, including sake and Sapporo on draft. Daily drink specials are offered between 5 and 7 p.m.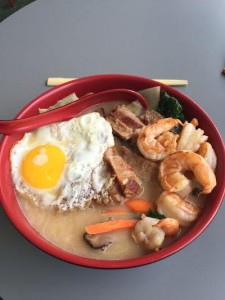 Ingredients focus around three different regional styles: Pho, Chinese, and Japanese. Each of these styles offer a different type of broth to choose from. Next you pick your toppings and protein where the menu lists several suggested vegetables associated with each style. Proteins include a choice of chicken, steak, pork, shrimp or tofu. Although soup seems to be their focus, guests have the option to select their bowls with noodles or rice without broth.
The final step in determining your Spiral Noodle adventure involves stopping by the "sauce bar." Spiral Noodle keeps their broth light to allow each guest to customize their dish with the multitude of sauces and seasonings. Flavors for these range from salty, to sweet, to spicy.
With the head chief and several members of management hailing from Hong Kong, Spiral Noodle has an authentic relationship with the fresh ingredients and traditional methods with which they craft their cuisine. The flexibility and accommodating approach of their mix-and-match creations allow guests to get creative with their entree, although there is risk that a less-experienced diner might choose what they find to be an uncomplimentary combination of ingredients. When in doubt, it is a good idea to ask the server for their educated opinion.
*Spiral Noodle's custom mural painting was created by Matt Lively, nationally acclaimed artist and VCU Professor.