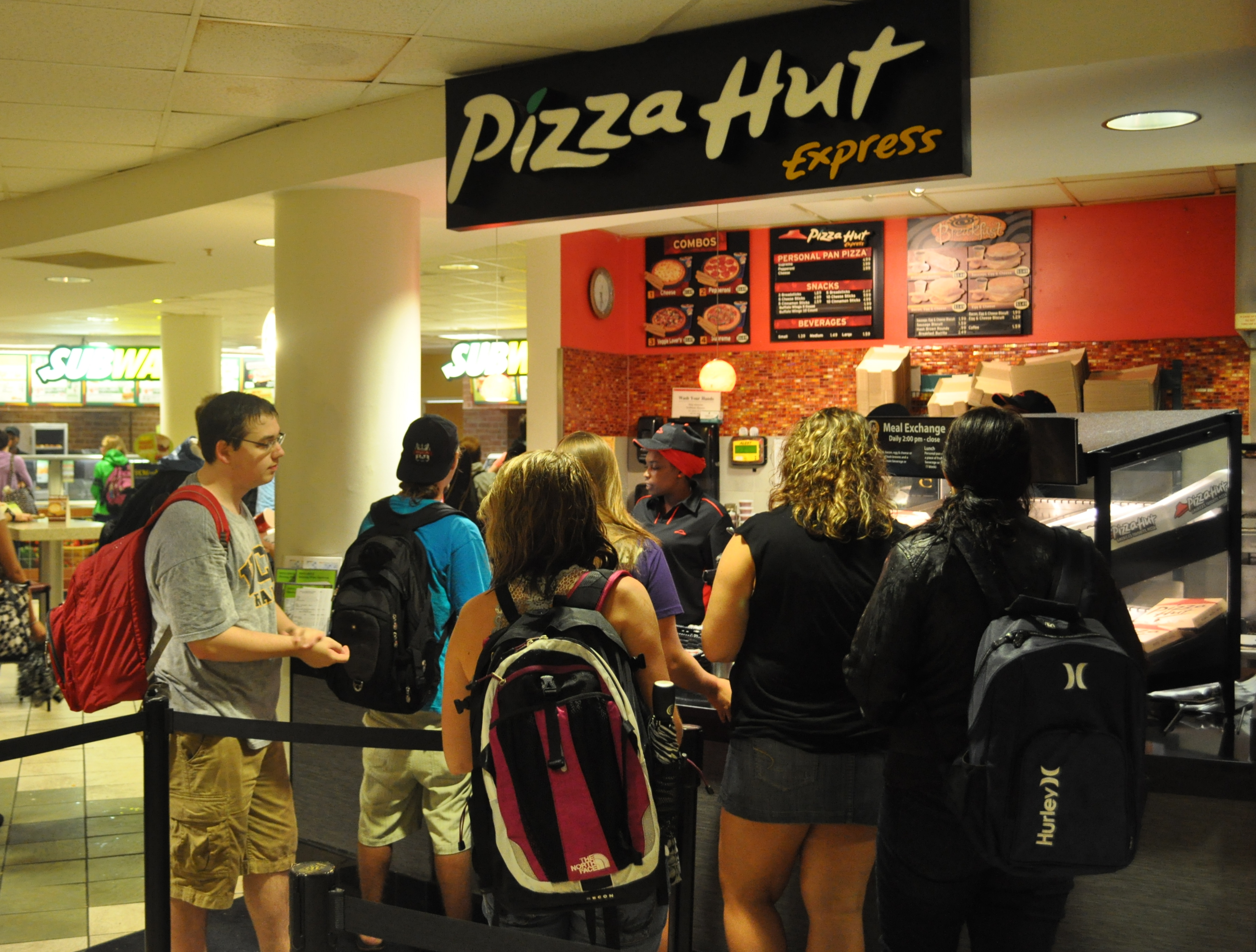 There aren't too many tricks to the trade here. It's Pizza Hut, condensed. Great if you want to just pick something up really quickly since everything is ready-made for you. Plus it is kind of hard to pass up with the smell of pizza hitting your nostrils as you walk through the Commons. As long as you aren't expecting anything gourmet, you should be satisfied with your choice here.
OPTIONS
Pan pizzas, buffalo wings, breadsticks and breakfast biscuits in the morning. Fountain drinks and fruit with every meal-swipe option.
WHERE
VCU Student Commons
HOURS
Monday-Friday: 7:30 a.m. – 11:30 p.m.
Saturday: closed
Sunday: 5:00 p.m. – 10:00 p.m.
IF YOU HAVE A DINING PLAN
The swipe menu is a bit complex. It serves breakfast, but be aware that you must spend Dining Dollars between its two swipe times.
Meal-swipe times:
7:30am – 10:30am
Biscuits with your choice of egg and cheese; bacon, egg and cheese; or sausage, egg and cheese with an order of hash browns, a fruit, and a drink.
2pm – Close
Personal Pan Pizza: Pepperoni, Cheese, Veggie with a fruit and a drink.
Six wings with a fruit and a drink.
BUSY TIMES
Lunch and dinner rushes
QUALITY
While pizza at Market 810 To-Go specializes in pizzas you can share with varying quality, you can reliably count on Pizza Hut to give you something delicious. Plus, the wings aren't too bad, either.
RECOMMENDED OPTION
Pepperoni is always a classic choice, but grab the Hawaiian Luau if you're feeling saucy. If you're a fan of cheese pizza, try sprinkling some parmesan on that. I guarantee you'll enjoy it.
If you have early classes and want something quick to bite on your way to Temple or Harris, I recommend stopping by here since your food is already ready to go. Just grab it, swipe it, and be on your way!
TIPS
If you're a Pizza Hut fan, check out their breakfast menu. Also, keep in mind that during the week Pizza Hut is open late compared to the other eateries in the Commons.
Don't be afraid to double swipe or use dining dollars with your meal in order to get a cheaper pizza and wings combo.
The following two tabs change content below.

Latest posts by Shafer Bird Staff(see all)