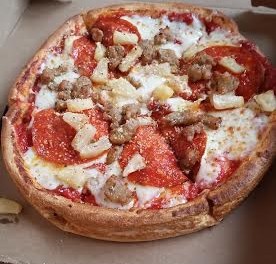 Contributing Writer
Khaa'Rym Alleem
Joining the campus pizza family, Pie Five opened its doors to VCU students on September 4th of this year. Located next to the Panera Bread at 810 West Grace st, Pie Five has brought a unique pizza experience to the area.
The inside of the store was clean and small. however there is an upper level similar to Noodles and Company as well as an outdoor seating option. In order to build your pizza, you tell the employees what you want on your pizza in 3 stages . first, There's the base stage where you pick from a small list of different pizza crusts, sauces, and cheeses. Next is the topping stage, where you pick your toppings. They have everything from pepperoni to anchovies, so there are toppings for everyone. Last is the perfection stage. here is where the employees will ask you whether or not you think your pizza is perfect before putting it in the oven.
During my visit I had a personal pan pizza with the classic pan crust, Tuscan marinara sauce and Pie Five's mozzarella & provolone cheese blend, with large pepperonis, Italian sausage and pineapples then, after the pizza is baked, they topped it off with some of their magic dust which is a parmesan and oregano blend. I also had a snack size Caesar salad which was served in a bowl made out of pizza crust. The Caesar salad was just lettuce tossed in Caesar dressing. While they were preparing all of my food, the employees were engaging me in conversation, which was nice because not many places do that.
Overall the pizza pretty good. It didn't taste like a pizza from one of the bigger chain stores like Domino's. However, it still does taste like how a pizza should taste. While the salad was too small, even for a "snack size," I still thought it tasted good. They gave me plenty of dressing, which I love. My pizza and snack sized salad came in a bundle with a drink for about 12 dollars after taxes. I think that's a bit pricey for the quantity of food, however, it is definitely worth it.
Pie Five has definitely brought a new pizza experience to VCU. While the food is on par with the other pizza locations on campus, they excel at customer service. So if you want good, customizable pizza and excellent customer service, you'll want to give Pie Five a high five.