Contributing Writer
Katy Stanley
A downtown favorite has opened its new location on Broad st. this past month. Unlike their home store,which excels at bringing in customers with it's inviting southern charm interior, fresh food, and precision. However, what makes it a prime spot for breakfast and lunch is missing in the new location, which has not met up to the expectations set by the old restaurant on Norfolk Street in downtown Richmond.
I wanted to love this new place as much as the old because of it's convenience and proximity to campus, and therefore decided to give it three tries.
On my first visit to the location, I was swept away by the inviting simplicity of their motif. About ten tables and a yellow couch speckled the seating area, which was well lit and warm from it's large floor-to-ceiling windows. The shelves were stocked with mugs and all natural beauty products, and their menu was scribbled on a hanging chalkboard behind the counter. Every aspect of the interior reflects the diverse crowd, which ranged from business professionals on their lunch breaks, to VCU students who made the trek to use the quiet space to study and snack.
Strike 1
I was disappointed to learn that there were things that they were "out of" on the menu or did not have at all. For a breakfast/brunch/lunch location they found themselves out of champagne for mimosas, salmon for a Lox bagel, and plain cream cheese. Thankfully, the employees graciously did their best to accommodate me and never broke their welcoming demeanor through the pitfalls.
The Lox bagel I had was topped with a gawdy amount of salmon. There was enough to make a whole separate bagel, despite having been told there was only enough to make one. The salmon was fresh with a smoky taste and perfectly adorned with onion and capers. However, the thickness of the salmon made biting into it an unflattering sight to behold.
Strike 2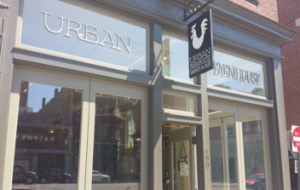 On my second visit I ventured into new territory, opting for a salad,the Pear w/ Roasted Walnuts & Blue Cheese Salad. To my dismay, what I thought would be a light refreshing meal was drowned in so much dressing that the salad no longer looked green and the pears were unrecognizable both in appearance and taste.
Strike 3
On this trip, I gave the Lox bagel another try, since it had been a couple weeks since the first time I gave it a chance. Unfortunately, the salmon on this bagel was piled even higher than the first, with not even a hint of cream cheese visible through the mass. While the smoky flavor was still nice, I found myself getting frustrated and taking off about half of the salmon just to take a solid bite.
This location of Urban Farmhouse while useful as a study spot, lacks in their ability to make simple snacks and meals. Their aesthetic for providing fresh wholesome products is diminished by the execution of their dishes. For anyone looking for a wholesome and delicious breakfast, lunch, or snack, I recommend their downtown location,or anyplace else.