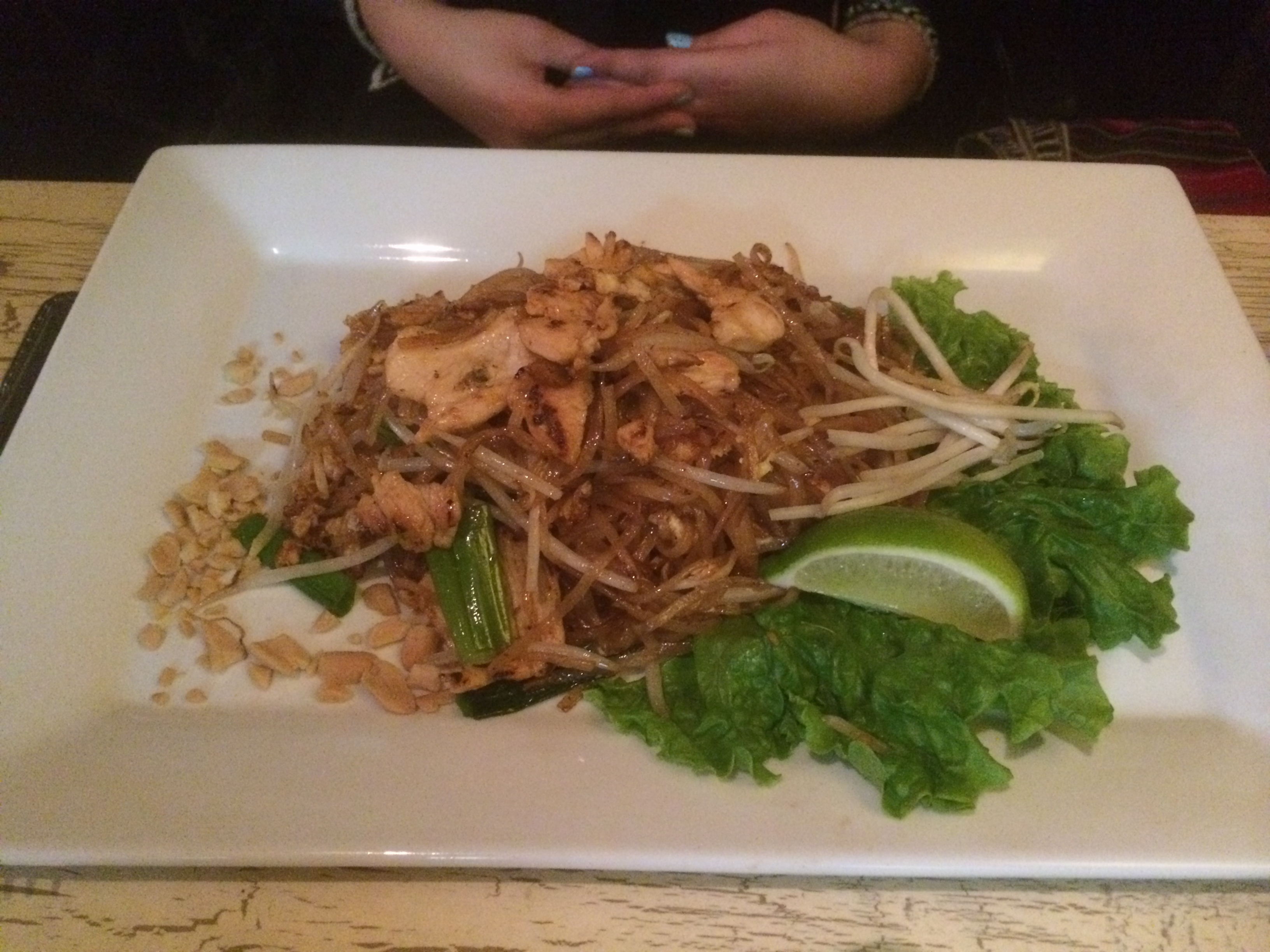 My Noodle, Possible New Fan Neighborhood Favorite
Words by Shannon Minor
Photos by Michael Pasco
Opened Nov. 9 underneath the Stuart Court Apartments, 1600 Monument Ave., My Noodle provides the Fan neighborhood with a much needed Thai and Szechua cuisine.
Stepping down the stairwell into an almost other-worldly atmosphere, my friend and I were greeted excitedly and presented with beads to celebrate the opening of the new restaurant. Jazz music played from the surround sound as if coming from a phonograph, accompanying the other world vibe with a sense of a trip back in time.
Booths line the walls and there is a small bar. The restaurant is in the process of obtaining a liquor license.
The menu is organized by two categories of noodle and soup dishes, all one size and one price determined by the type of meat. Dishes start at $10.50 for poultry, $11.50 for beef, and $14.50 for shrimp.
When our friendly waitress took our order, I choose a Thai ice tea. After stirring the orange and cream colored beverage, I was lifted into a dream with the sweet flavor. My senses were happily overwhelmed with a delectable tea flavored aftertaste as well. The drink could have sufficed for a dessert all by itself, and after continuously sipping it throughout my meal, I still could not finish it.
The waitress returned, and after a reasonable amount of time, our food was arrived in extremely large portions. I ordered a classic and favorite, Pad Thai.
My first bite was satisfying, but as I continued eating, I noticed the flavor was not equally distributed throughout the noodles. Also, asking for a mild to medium spicy level, it was much hotter than I anticipated. Luckily, I had the Thai ice tea to counter balance the strong spicy flavor.
My friend ordered a soup option called "The Love Boat", also served in a very large portion. He found the mixture of broth, beef and noodles to be averagely satisfying, as the flavors became more bland overtime.
My Noodle was perfect for the cold night we stopped in. The large portions made up for the steep price. Leaving indifferent about the taste of the food, the restaurant only has promise to improve. The super convenient location will keep me coming back for more and I would recommend anyone to stop in for a comfortable evening and amount of food that keeps well for enjoying later in your own home.
My Noodle is open Monday-Saturday 11 a.m.-10 p.m. and Sunday from 11 a.m.- 4 p.m.