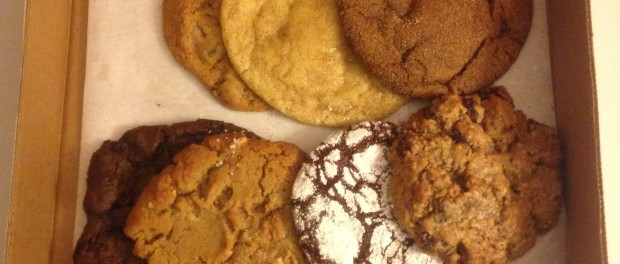 Words and Photographs by Margaret Carmel and Shannon Minor
Late night cravings often erupt at this busy time in the semester. Sweet relief, however, can now be found in more than one place near the VCU campus.
Shafer Bird's Margaret Carmel and Shannon Minor recently pulled an all-nighter to determine which late-night cookie place, Red Eye Cookie Co. or Campus Cookies, will serve as the ultimate salvation.
Campus Cookie Experience:
As a first impression, we found the Campus Cookies branding and website to be cheesy and childish. The smiling cookies and bright yellow background did not seem welcoming or convey the idea of "home baked."
To order the cookies, Margaret downloaded the app to her phone. After braving the garish yellow graphics and creppily animated cookie figures, she navigated to the page where she could select a store. Margaret was dismayed to find that the app did not have a Richmond options, so she would have to order online.
After moving to the website, Margaret was able to select the cookies she wanted. They have a huge selection of cookie flavors including Pumpkin Spice, Chocolate Peanut Butter, Lemon Cooler, Chocolate Truffle and Strawberry Shortcake. In addition to cookies, they also have Cinnamon Rolls and Brownies.
Elsewhere on the website they have customizable Cookie Cakes, Beverages and Ice Cream. They definitely have a lot more options than Red Eye in these categories, but their milk is bottled individually and isn't high quality from Horizon like their competitor. Also, their Ice Cream Sandwich is Blue Bunny brand instead of made from an actual freshly baked cookie.
Margaret ordered ten different cookies and added a driver tip for a total of $13.00. After waiting for an hour an a half, the cookies still had not arrived. We decided to visit the website to contact them and ask about the order. Instead of the website we found earlier, this screen appeared: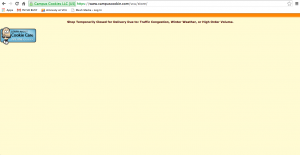 Eventually, we gave up and went to bed. Maybe there was an error with the order? Who knows. With the website shut down, there was no way for us to find out what the problem was.
Despite the bungled order, Margaret has eaten Campus Cookies before with a friend.
While the cookies are definitely cheaper than Red Eye, they are much smaller. They do taste good, but they don't taste homemade. It tastes like brand name frozen cookie doe that was placed on a pan, baked, put in a box and delivered to you. Margaret states "I have an oven. I can make these myself. I just don't see an incentive to go through the trouble of ordering something that is very easily made at home."
Margaret's favorite flavor of cookie that came in the box that she previously had was the Coconut Pecan, with a unique and unexpected flavor. She also really enjoyed the Chocolate Truffle cookie, which was filled with gooey chocolate on the inside.
Red Eye Cookie Co. Experience:
After recently hearing about the new Red Eye app, Shannon easily downloaded it to her phone. The whole process took about a minute, and the app is easy to use with its modern, clean look.
High resolution photographs of the various cookies available made decision making difficult, as all the cookies looked delicious. Shannon decided to try as many cookies as she could to reach the $10.00 minimum delivery fee. Her order included Oatmeal Raisin, The Red Eye, Honey Crunchy Peanut Butter, Chocolate Andes Mint Chocolate Chip, Ginger Molasses, Snickerdoodle and a Chocolate Chip.
A great feature about the Red Eye Cookie Co. app is it states the estimated arrival time, unlike the competitor Campus Cookies. The app also has an easy way of adding a tip to your order. The entire total was around $15.00 with tax.
Arriving in just around 35 minutes, 15 minutes earlier than anticipated, the cookies were handed to Shannon with a smile. The freezing cold temperatures in Richmond's very windy city did not deter this bike delivery boy, and Shannon thanked and appreciated his dedication.
Upon opening the box, Margaret and Shannon's mouths watered; the cookies were warm and neatly displayed in the box that emulated a mixture of chocolate, cinnamon and other sugary smells.
All of the cookies were hearty tasting and gave off a sense that they truly did just come out of the oven. The middle of each cookie was gooey, delicious and buttery. Margaret and Shannon agreed their favorite was the classic Chocolate Chip. Margaret described it as "tasting like lunch in Middle School," as her Mom would include homemade cookies in her lunch.
Winner: Red Eye Cookie Co.
Campus Cookies are okay. The problem isn't the fact that they're bad, but the fact that everything seems overly corporate and complicated. They sell Campus Cookies blankets, playing cards and stress balls on their website for goodness sakes! Everything is brand name and complex.
Both Shannon and Margaret agree they would much rather be able to choose from a few select, classically delicious flavors offered at Red Eye Cookie Co. than be overwhelmed with choices.
In the end, Red Eye Cookie Co. takes the cake, or in this case, cookie. There was no competition, especially since Campus Cookies did not even delivery their order. Red Eye may be more expensive, but with their cookies you get fast delivery time and an incredible product, all while supporting a local business.