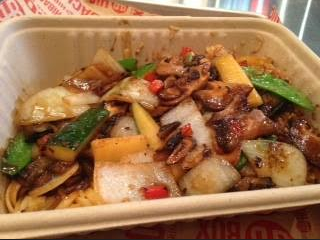 Contributing Writer
Rebecca Frankel
It's finally happened. After months of walking by the shop at 411 N. Harrison St., wistfully dreaming of delicious Japanese stir-fried food, Hibachi Box has opened up its doors. As soon as I stepped foot inside of the restaurant I was surrounded bright, fun decor. It was like walking into a cartoon with plastic toys sitting on lit cube-shaped shelves and the walls lined with painted skateboards.
Your menu options are either the hibachi entree, or a stir-fry. For the stir-fry, you choose between the goatcado option–quinoa, a variety of veggies, and egg–or yaki yaki noodles. Both options are $7.95 and come with namasu cucumbers, fried shallots and a salad. You can also add protein for $2.00-$3.95, depending on the protein.
I went for the hibachi entree, because I came there to eat some hibachi! Hibachi is a Japanese grill, where the food prepared is stir-fried right on top of it with various sauces. My first time trying hibachi food was in a Japanese Steakhouse in Roanoke, VA. Vegetables have never tasted so delicious. So, I was very excited to get my hands, and teeth, on some good hibachi food. When ordering the hibachi entree, you choose between proteins. Your options are chicken, steak, veggie, shrimp, or salmon. I went with veggie, which was $7.95. The hibachi entree comes with grilled veggies, fried rice, a salad, and noodles.
You also get to choose two dips. The options are ginger dip, yum yum sauce, spicy mustard dip, and Pepe's white sauce. The owners of Hibachi Box also own Pepe's, a Mexican restaurant in Midlothian. I went with ginger dip and yum yum sauce.
They also have homemade drinks: coconut rice water, sweet tea, and melon ginger juice. The man working there let me sample all three. The coconut rice water was delightful. It had a sweet nutty taste, almost like drinking a dessert. It wasn't too sweet either, unlike like the sweet tea. The sweet tea was a bit sugary for my taste, but I never really like sweetened tea so take that with a grain of salt. The melon ginger was very refreshing. It was spicy, with actual ginger pulp in it. Perfect for combating the oncoming of a winter cold. I went with the coconut rice water, as it was my favorite.
When I got my food, it was steaming. I poured my dips all over, mixed everything up with my chopsticks and tucked in. Pow! So much flavor! The vegetables were cooked perfectly and the savory taste was unreal. With fried rice and noodles in addition to the veggies, it was SO MUCH FOOD. I lived off of those leftovers for two days. Then again, I'm rather petite. Seriously though, you get a lot of much food. The meal was absolutely amazing and I highly recommend it! However, if you don't live super close by, never fear–they deliver!