By Paul Stehlik
The key to a great restaurant lays in delicious cuisine, friendly staff, and a creative atmosphere. Extreme Pizza is extreme in name alone. It has all the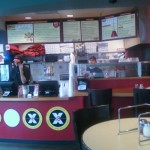 charm of a sleazy chain restaurant, the taste of a Chuck-E-Cheese's mass produced pizza.
The pizza at Extreme Pizza is a flash back to days gone by when your mother would take you to Chuck-E-Cheese's, without the fun of those arcade games and the hope of winning the cheap prizes. The pizza's sauce is cheap, the crust is undercooked, and the cheese is a melted bit of grease.
There are those out there that like grease on their pizza, but if you turn thispizza vertically, the grease could be a drink too. 'An utter waste' are the only words in the dictionary for the pizza. And the only side that they could come up with is a bag of lays original potato chips? What happened to garlic bread? The price was nice though, $ 4.25.
All the pizza combos, sub sandwiches, and assorted dishes has kitsch cutesy names like "The Everest" to try to conjure up some creativity but it becomes droll and overplayed. I would rather order a sandwich not some mountain code for a salami sub. There is thematic and then there is overkill.
The decor is similar in fault. High tables, low booths, and all trying to conjure up to the same image of "extreme". Pictures of individuals doing things that customers might think are extreme line the walls – surfers, mountain climbers, and the like.
Everything from the classic chain drink station, red wood counters, and the New York pizza holders is all image and no substance. It seems like they are trying too hard for an image and leaving no time to develop a tasteful product.
At this point, the only way the restaurant could appear extreme is if the delivery people where to kick in your door, yell: "Extreme!", and throw the pizza on the ground.
Frankly, it is hard to fathom how they stay open when Vito's, a brilliant Italian restaurant, is a street behind them, and the owner did seem like a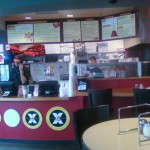 stand-up guy when he took my order.
Despite all the negatives for the place the staff is nice, which is fantastic in an age where people just aren't friendly anymore. They offered to cook my pizza special since I went in at an odd hour. Even when they did, it only took about 5 minutes. They brought it right out to me with a smile. There is something to be said about good service.
Push coming to shove, Extreme Pizza is an interesting try if you want cheap pizza; however, if you have the chance, try another place for pizza. Extreme Pizza is not all that extreme.
Extreme Pizza is located at 941 W. Broad Street. For more information, go towww.extremepizza.com.