By DeeVa Payne
The highly anticipated opening of Einstein's Bros. Bagels brings "darn good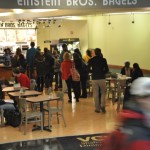 coffee" with mixed reviews. Is a delicious bagel worth the long line and a lengthy wait?
The lighting and décor of Einstein's is welcoming. The neutral colors and café façade provide a great area where many VCU students frequent not only to eat but to study and mingle with friends.
Any student walking through Shafer Dining Court Center can see the never ending line that extends out from Einstein's and into Shafer's foyer.
"There is always a long line and I don't want to wait for just a bagel," said Adrienne Kelly, a freshman at VCU who commutes through Shafer multiple times a day.
A trip to Einstein's is never quick. Customers wait an abnormally long amount of time for orders as simple as a bagel with cream cheese.
"I hate waiting 10 minutes for such an easy order," said Jonathan Litalien. "I'll put the cream cheese on myself if I have to."
The menu includes a variety of options to satisfy any meal of the day offering breakfast bagels, lunch sandwiches, fresh salads, and even a bagel pizza.
"The food is fine. I like it. I just want the service to change," said Litalien.
Along with the choices of food, Einstein's offers a variety of coffee drinks similar to Starbucks. Kelly stated that the coffee was "nothing special" in comparison to other coffee shops.
The students that operate on a dining plan are frustrated at the "no swipes till after 5 p.m." rule at Einstein's. Many students frequent the bagel shop before their morning classes and find the swipe limitation a nuisance.
"Before Einstein's opened I could go to Market-810 and get a bagel, cream cheese, yogurt, fruit, and coffee for a swipe. Now that Einstein's is open I have to spend dining dollars to get all of that," said Kelly.
Even though the meal exchange does not occur until after 5pm, Einstein's is still a booming store every morning. Hopefully as the store's excitement settles, the service will speed up and customers will leave smiling.