By Manhatten Royal
I stumbled upon Comfort about one year ago. Blending in with many of the buildings on West Broad Street, it can be easy to overlook at first.However,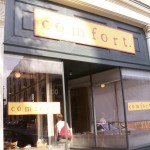 once you experience the delights of true southern comfort food, you'll be sure to look out for it every time you pass by. Comfort presents beautifully cooked, true southern cuisine with a perfect amount of simplicity.
When you walk into Comfort, the setting is warm yet simple, complete with wooden tables and dim lighting. You feel as if its dinnertime in your family's home. There are plenty good vibes occurring within the restaurant. Almost everyone dining is engaged in friendly conversation or enjoying a glass of wine from the very inclusive wine list. Even the bar tender is sharing stories with a few of his customers.
Growing up in the South, it is often hard to find restaurants that can equal to the experience of true southern comfort. I automatically knew the owners of Comfort knew what they were doing when our water was served inpreservative jars and fresh sourdough and cornbread with butter was presented to start us off.
The menu contributes to the restaurant's simplicity with three straightforward lists: Appetizers, Entrees, and Sides. The menu consists of comfort foods and Southern classics, such as mashed potatoes, pulled pork BBQ, and even cheddar cheese grits. We tried out the fried green tomatoes, a delicacy in the South. We were pleased to find them perfectly crisp and not a minute overcooked.
At Comfort, there are good choices of entrees, like the roasted chicken, fried catfish (which I recommend), and top sirloin. We found that the toughest decision was what two side dishes to choose. Though the entrees are tasty and carefully prepared to perfection, the sides actually bring the meal together. I tried the corn and was overwhelmed by how fresh it was. The texture was crisp, tasting like it came right off the cob from a Farmers' Market. The zesty mashed potatoes and thick macaroni and cheese were also both worth mentioning. The sauces presented with the food were also homemade, which is another play on southern home cooking.
To end, the waiter suggested that we try the banana pudding. It was a nicely sized portion of layered wafer crusted, pudding and bananas to finish off the meal.
The waiters and waitresses are always down to earth and really helpful with explaining the menu. They seem to have perfect timing with assistance andallow you to enjoy your meal. There is nothing worse than being rushed out of a restaurant. The service at comfort assures that their customers can relax.
If you prefer to dine earlier in day, Comfort is also open for Brunch and Lunch. The brunch menu consists of very hearty, traditional southern breakfast items such as biscuits, eggs, sausage, and gravy. They also put a twist on breakfast classics, like the shrimp and grits. The lunch menu is very similar to the dinner menu, but includes a wide variety of sandwiches and burgers.
I highly recommend Comfort to everyone, especially those with a particular taste for a Southern style home-cooked meal.This is may not be your grandmother's cooking, but it might just be the closest thing to it.
Comfort is located at 200 West Broad Street. You can find a more in-depth menu and further information on the restaurant athttp://www.comfortrestaurant.com/.