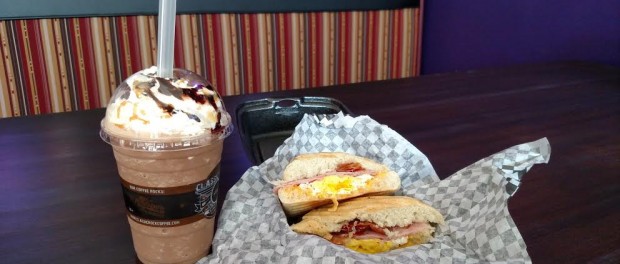 Contributing Writer
Grant Smith
In a city brimming with coffee shops newcomers need to stand out to have success in the Richmond market. At first glance, Classic Rock Coffee seems to have what it takes. Located just off campus on the north side of Broad street near Kroger, Classic Rock Coffee brings the nostalgia of Rock n' Roll's golden age to your morning routine.
When I arrived at Classic Rock Coffee at around noon there was no line, only a few other patrons were dispersed throughout the cafe. Classic Fender's and record albums line the walls accompanied by paintings of a zombified Jim Morrison. Colored stage lights lend the hardwood loft space a certain warmth. Large booths, oversized leather couches and bass drum coffee tables offer a plethora of seating options. Board games and free wifi are available for those who want to linger and jam out to consistent classic rock hits.
The menu is displayed on large LCD flatscreens above the counter, where staple items such as the War Pig Breakfast Sandwich continue the classic rock theme. Along with coffee and sandwiches Classic Rock Coffee offers protein shakes, smoothies, flavored coffee drinks, hot teas and salads.
When I approached the counter the barista was welcoming and cheerfully informative. I ordered a to-go coffee, the Sweet Emotion frappe, and the War Pig Breakfast Sandwich.
The coffee, which is offered for $1.86 for a to-go cup and $3.50 for bottomless "Sit & Sip" was high quality. Out of their four available blends, I tried the "Barracuda Bite" from Ethiopia which boasts hints of blueberry, bergamot, and floral flavors.
The barista recommended the frappe which I was less impressed with. The chocolate and caramel flavored frozen drink was predictably sweet and seemed to mirror a comparable product from Starbucks or Mcdonalds. That being said, sweetness is unavoidable when the drink has both chocolate and caramel.
The breakfast sandwich consisted of bacon, ham, egg and cheese on ciabatta. The end result was decent. The egg appeared to be freshly cracked, but the bacon and spongy bread were less appealing.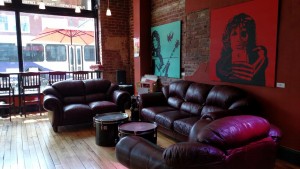 After sitting for awhile, the themed interior started to bore me. What seemed initially a well executed theme began to feel formulaic after tasting their product. Classic Rock Coffee jams classic rock down your throat. It screams "look at me, I have character," yet it undoubtedly does not. None of its competition tries to sell coffee under the guise of a completely unrelated cultural movement. I wanted to like it, because I, like many others, love coffee and classic rock. Yet the theme seems more like shameless rhetoric than passion.
Classic Rock Coffee is like listening to "Welcome to the Jungle" continuously on repeat. It might be a hit, but at some point after the third playthrough Axl Rose's squeals start to get on your nerves.
After doing some research on their website, I was not surprised to find out that the Classic Rock Coffee brand is a franchise with numerous locations. Many of the stores are located internationally such as Bangladesh, Nigeria, Pakistan and India; places where American Classic Rock still has a sense of legendary novelty.
Personally, I don't see the Richmond location lasting very long. It's location on Broad street is not particularly favorable. Unlike Lift, another Broad street coffee house,which is nestled cozily in the arts district, Classic Rock Coffee's location is harshly exposed and unfriendly. I might have enjoyed their coffee but the poor choice in location only highlights the lack of personality that this business tries to tune out with familiar guitar riffs and passionate vocals. This is certainly not your neighborhood coffee house.