It's a Saturday night in Richmond. What to do? Well, as long as you're not broke, you could always go out to dinner. Sounds bland, especially for a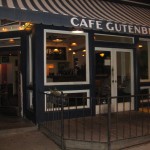 vegan or a vegetarian. But, there could be some hope if you find the right place…
Walking in from the cold air outside into Café Gutenburg leaves your cheeks flushed and pink. A waiter tells you to sit where you like. There are lots of comfy booths available.
The lighting is dim and warm. Above there is a tin ceiling that makes you feel as if you're in Richmond in the early 1900's. The counter where the coffee is made, also, adds to the old fashioned environment. The wear and tear of years on the building, along with the trendy artwork and candles makes the setting very appealing.
Café Gutenburg's menu can satisfy both carnivores and herbivores. There aren't a ton of things to decide from, but enough options for all types of eaters
Among some of the options is the mock duck rooster sandwich, served vegan or vegetarian. The flavor is unique, like nothing you've ever tasted. The spices and flavoring of the sandwich are great.
Another option is the Grass-Fed-Gutenburger.
"Cooked just right! It's not the best burger I've ever had, but it's pretty damn good," Virginia Commonwealth University Student Daniel Pepio said.
Gutenburg has specialty drinks, too. The 'Viatnamese' is one to try. It's very sweet, like dessert in a cup. The perfect balance of coffee and sugar brings you back to life.
The wait staff is not intrusive or obnoxious. The waitress was pretty quiet, but very genuine and friendly. Our glasses were never empty for long, and the food came quickly.
Prices are moderate. A sandwich or brunch is around $8 to $10 a plate. Entrees are a bit pricier, anywhere in the teens. Appetizers and desserts were around $5, and drinks around $2. All in all, Gutenburg's prices are worth it.
Between the hip environment and the eclectic food, Café Gutenburg is a winner. Keep it in mind next time you're in Shockoe Botton and looking for a tasty meal!
Cafe Gutenburg is located ot 1700 E. Main Street. For more information, go towww.cafegutenberg.com.