By: Aleena Inthaly and Azam Malik
Walking into any restaurant with wooden babies and metallic Buddhas in the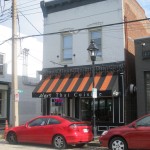 entrance way can be intimidating but not at Alex's Thai Cuisine. The soft scent of Jasmine flowers and sizzle of saute pans in the kitchen wasn't a representation of just Thailand, but of family as well.
Once you open the door into Alex's Thai, it's like going to visit a long lost Uncle who's hosting a dinner party just for you. Though the staff is small and includes the owner and his family, the restaurant is nicely maintained and friendly.
On the weekends, the owner greets and waits on the guests. He is a short gray-haired man with a loving smile and shows great care towards the customers. If you never had a compassionate and friendly Asian uncle, Alex's Thai is the place to get to know one.
Alex's opens in the afternoon and is a great location for workers downtown on their lunch break. There are two menus: lunch and dinner. Taking a look at both menus, the only difference are the prices. A person who is eating lunch will pay about a dollar less than the dinner.
Dinner starts at five p.m., the suggested time to go visit Alex's Thai because lighting from the streets and the interior gives the illusion of an urban sophisticated atmosphere.
There is a separate wine and alcohol menu for those who are interested in wines. A portion of the wine and beverage list are imports of Asian based alcoholic beverages, including the famous Thai Singha beer.
Pricing on the cuisine at Alex's Thai is reasonable if a customer is choosing for an entree and dessert. A majority of the noodle and stir-fried entree choices arearound $7-8. Special beverages like Thai Iced Tea and Pineapple Juice are around $3-4, as well as the appetizers and desserts. A few dishes exceed $10, but those are their specialty plates and come in larger portions.
When my friend, Azam, and I decided to visit Alex's Thai to give the food a test run, we decided to complete a three course meal. Being part Thai, I had a lot of expectations for Alex's Thai since the setting reminded me of my family and the food that I am so used to.
We started off with the Friend Wonton – a crispy wonton piece filled with season pork, served alongside sweet and sour dipping sauce. The presentation was no Picasso, but it still looked good enough to eat.
Next was our entrees – Mixed Vegetables in Brown Garlic Sauce and DrunkenNoodles. Mixed Vegetables contains a variety of carrot, onion, broccoli, and baby corn with chicken stirred in a succulent garlic sauce finished with a plate of rice.
The dish reminded me of what my mother makes and it did not disappoint. It tasted exactly like what I am used to, which motivated me to actually finish everything on that plate.
However, Azam's spicy flat noodles stirred in a basil chili sauce was a disappointment. Drunken Noodles is a favorite dish of mine, but these were the wrong noodles and they were too dry.
The dessert thankfully brought the whole meal together. At the end, a three course meal costs around twenty four dollars without tip. Alex's Thai Cuisine is a great try for those who are first timers to Thai Cuisine.
The low-key family run restaurant has all the aurora of home with a little hint of Thailand. I definitely will go there again for the mixed vegetables. That dish aside, there are still other great Thai restaurants in Richmond to check out.
Alex's is located on 17th street at Shockhoe Bottom and is open seven days a week. For more information check outwww.Alexthai.com.