By Rachel Williams
821 Café plays a pivotal role in campus entertainment, while serving as a point of reference upon entering Oregon Hill. It's the comfort food of choice according to Style Weekly, where a stealthy vegan may dine beside a true meat lover. A café slapped on the back with 4 stars; my palate utterly shook at the potential flavor combinations.
But it is clear deception…
On entry, the restaurant holds between 50-to-60 seats with a seven-person bar. To the bare-naked eye, the ambiance was recently revamped, striving toward a "refined hipster" look.  Art hangs on the exposed brick; bold colors of red and yellow align the walls and old school desks serve as tables. Eccentricity is something that is embraced here.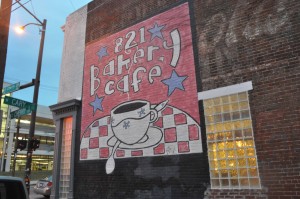 In the beginning our server-meets-hostess  was personable and friendly. I ordered a house coffee with cream, while my friend ordered a sweet tea, our first-of-two refills.
The menu layout was organized in a direct fashion split into 8 sections- breakfast (served until 4:30), "tizers" (small plates, like a hummus plate, smoked salmon, a dozen wings and fried artichoke hearts). Other items included salad, pasta, sandwiches, burgers, wraps, croissan
ts and subs. Vegetarian, or vegan options were readily available as well.
The waitress directed us to a table near the bar at approximately 12:53 p.m., and returned to take our order 12-minutes later.
I watched the clock tick slowly turning a quarter passed 1 p.m., and still no entrees. Yes, the café was inundated with students, however, two separate bar couples arriving after us were well into their meal at this time.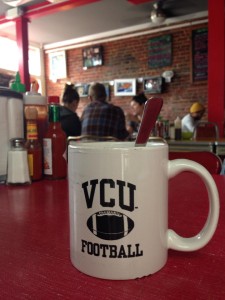 He proceeded to disprove "the customer is always right mentality." The bartender claimed I was overreacting and our meal was put in at 1:19 p.m., 14 minutes after our waitress left our table with the order in hand. I decided to ask the bartender about the status of our meal. He was short with me, and seemed annoyed by the sound of my voice.
Seeing as this is a "four-star restaurant," one would expect delicious food on top of impeccable service.
However, my entrée, the buffalo tofu sandwich with blue cheese with a side vegan chili may be a Richmond favorite, but the overall temperature was lukewarm the bun was soggy.
Our second entrée, a burger ordered medium-rare, was served overcooked. However, the vegan chili stood out with a flavorful South-American flair including corn, red, black and kidney beans. Its smoked flavor dominated my senses, but that was sadly 821 café's only thrilling factor.
At 1:40 p.m., no coffee refill with trash strewn about the table and a single cup of water for a party of two, the wind was pushing my feather hat out the door.